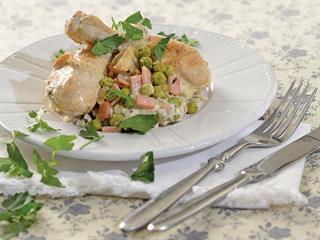 To make this dish for four, you will need:
1 chicken, mass 2kg or slightly more
1 punnet button mushrooms
3 cloves garlic
1 cup frozen peas
2 bunches parsley
150g cooked ham
750ml white wine
1 large red onion
2 tablespoons
extra virgin olive oil
150ml cream
Rinse, then quarter the mushrooms. Crush, peel and finely chop the garlic. Thinly slice the onion. Rinse and finely chop all the parsley. Now for the chicken. Section the fowl into breasts, wings, thighs, drumsticks and back. Cut the wings combined with a chunk of breast to give the wings some substance. Cut the back in half. You could, of course, buy chicken pieces but then you'd have to do without a back which has a significant part to play in the generation of flavour depth.
Select a generous casserole pot with lid. Pour the extra virgin olive oil into this and bring it up to medium heat. Brown the chicken section in the hot oil for ten minutes or so, turning the pieces once. Begin with the skin side so that the browning can render the magnificently flavoured subcutaneous fat as well as darkening the colour. Remove the browned chicken and reserve briefly under cover.
Add the thinly sliced onion plus the chopped garlic to the hot oil and chicken fat remaining in the casserole and sweat these until the onion is soft and translucent. Lower the heat and add the mushrooms for as long as it takes for them to cook. Taste and appearance will be your guide. With a slotted spoon remove and reserve the cooked mushrooms under cover for later in the proceedings.
Return the browned chicken pieces, including the back, to the pot.
Add the chopped ham and pour in the wine to a depth sufficient to cover most of the chicken. Add some coarsely ground black pepper, noting that the salt in the ham may be all the salt you need. Bring up the heat to a lively simmer, fit the lid and lower the temperature marginally so that the contents bubble gently. Let this continue for 35 minutes, then return the cooked mushrooms to the pot, adding the peas (after thawing them first).
Remove and discard the backs. Cook for ten minutes longer, then make a decision about the thickness of the sauce. If you want it thicker, use a little Maizena premixed with a tablespoon or so of the sauce. Avoid lumps! Slowly pour in the cream, stirring while you do so. Let this cook for a few minutes to standardise the temperature, then carefully pour the chopped parsley into the pot to make a thick green layer. This will look like a million dollars, give or take a couple of thousand.
Take the casserole to the table so that the diners can be amazed by the carpet of parsley, and serve with white rice, couscous or pasta of your choice. Bon appétit!