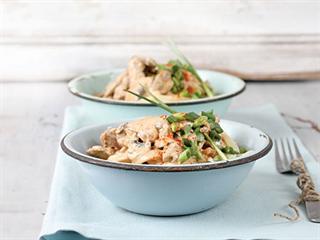 To make beef stroganoff for four, you will need:
1kg rump or porterhouse steak, in a solid piece

Fettuccine pasta or plain boiled rice

250ml chicken or beef stock

40ml brandy

5 shallots or 10 spring onion bulbs

500g oyster mushrooms

250ml crème fraîche

15ml coarse Dijon-style mustard

Paprika (optional)

Butter

Extra virgin olive oil
We begin with the paprika. If you can get this in its fresh form, great. More often, paprika is a dry, reddish, flavour-free powder sold in small bottles, and is an essential part of Hungarian food. Beef stroganoff is allegedly Russian, but as we can see from the ingredient list, it can also be Proudly South African.
While there is no shortage of cooking brandies, limit yourself to the samebrandy you drink. Quality matters and can influence the accents and flavour notes of the final product. Buy your steak as one piece and do the cutting yourself. Remove any fat and cut the meat into either strips or slices. The strips should be about 50mm x 12mm x 12mm. Alternatively, use your forefinger as the template. If cutting slices, make these the size of mini-steaks, say 50mm x 50mm x 12mm.
Get the rice or pasta going. If it's pasta, restrict yourself to fettuccine, or other broad or ribbon-shaped versions. Add a little butter before plating. Pour a little extra virgin olive oil into a large heavy-bottomed frying pan and lightly sweat the sliced shallots or spring onion bulbs. Substitute with small standard onions if necessary. When done, remove and reserve. Add a little extra olive oil and fry the oyster mushrooms in the same pan for a few minutes, stirring from time to time. Return the cooked shallots or spring onion bulbs and stir them into the mushrooms.
Lower the heat. Pour in the chicken or beef stock and the brandy and stir well. Let it simmer under close observation until the sauce has thickened. This should take 10 to 12 minutes. While the thickening is in process, stir-fry the beef strips or slices in a little olive oil for as little time as it takes for them to remain pink in the middle. Remove and reserve under cover.
Add the crème fraîche and Dijon mustard to the thickened sauce and stir well into the mixture. Add the stir-fried beef and a sprinkle of finely chopped spring onion greens, then season with salt (optional) and pepper. Add paprika for a Hungarian touch, if you wish.
Pour this delicious combination over the pasta or rice. Surprisingly, this recipe goes well with a fruity white wine like Gewürztraminer, or unsurprisingly, with an ultra-chilled Windhoek lager.