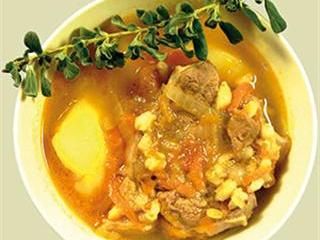 To make this soup for six diners, you will need:
1l chicken stock

(yes, yes, I know it's beef soup …)

2 large onions

4 large tomatoes or

1 can of tomatoes

1 cup of washed barley

3 carrots

2 sticks of celery

4 large potatoes

500g best shin

Extra-virgin olive oil

Salt, pepper to taste

Sprigs of rosemary, thyme, sage and majoram tied into a bunch
First, let's EXPLAIN the mystery – why use chicken stock if it's a beef soup? The answer is quite simple. Chicken stock adds flavour accents that enhance the final in-your-mouth experience. You can use the fresh or frozen variety, or if time is of the essence, you can even use a stock cube.
To get started, take a large heavy saucepan with fitted lid and pour in sufficient extra-virgin olive oil to cover the bottom. Put it on medium heat, then add the onions which have been peeled and cut into thin slices. Stir them from time to time until soft and golden. If you're using fresh tomatoes instead of the canned variety, blanch them first for 60 seconds in boiling water, then slide off the skins and toss them away.
Scrape the carrots clean, then section them into chunks. Do the same with the celery stalks. Peel the potatoes and depending on their size, cut them either into chunks or chip-shaped sections. Pour the chicken stock into the pot and let it heat up to a gentle simmer. Washing the barley is quick and essential. Having done that, add the barley to the pot, with the prepared carrots, celery stalks, tomatoes and potato sections.
Now for the meat. If this was a casserole, you'd happily brown the meat over high heat to seal in the juices. But this is not a casserole and the last thing we want is sealed-in juices. So add the fresh shin to the liquid unbrowned and hence unsealed, so that the meaty flavours and nutrients can penetrate the concoction.
At this point aesthetics, the ever-present finger-wagging scourge of the beginner cook, intrudes. Should one leave the boiled shin in the final soup or throw it out? Some diners rather like the texture of a well simmered shin, while others don't. Since you're in charge, you decide.
Finally, the fresh herbs. Harvest them from your garden, remove all sand and gogos, then tie them into a bunch with a clean cotton string. You should actually add this to the preparation at the beginning and then remove the soggy bundle at the end of the process. It's worth the fuss, I promise you, but admittedly the entire culinary world is waiting with bated breath for some genius to invent an alternative. Stay tuned.