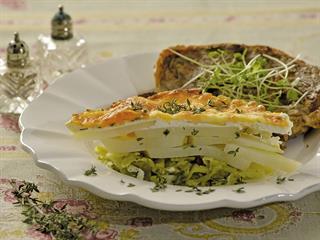 This dish works like magic as a side-dish for a braai or, for example, kitchen-grilled rare sirloin steaks.
Weigh the cabbage after discarding discoloured leaves and removing the core. Crush, peel and mince the garlic. Peel the potatoes and cut them into uniform slices (medallions). Coarsely grate the cheddar and finely grate the Parmesan cheese.
Now for the thyme. Ideally use the fresh stuff, spending a little time getting it right. Separate the tiny aromatic leaves from the woody stems and reject the latter. Finely chop the thyme leaves prior to use.
Chop the fresh, cored cabbage into rough strips of about 10mm in width. In terms of visual presentation and mouth-feel, this works better than grating. Drop the strips into a pot of lightly salted water at a rolling boil for five minutes, then remove, drain and reserve. Add the raw potato slices and mix in the finely chopped garlic.
Preheat the oven to 190°C.
Grease up the interior of a ceramic or glass baking dish then add the cabbage and potatoes plus the two cheeses. Select a mixing bowl and combine the milk, crème fraîche or plain yoghurt (your choice), 5g salt and a generous sprinkling of black pepper. Stir this to combine the ingredients, then pour it over the cabbage and potatoes in the dish.
Sprinkle the fresh chopped thyme leaves over the surface and give the whole assembly a light stir.
Stick it in the preheated oven for 70 to 90 minutes. For the first half hour, lightly press the mixture with an egglifter every
ten minutes. When the baking time is up, remove the dish and let it stand for 10 minutes or so. Any vegetable juices should be reabsorbed during this final passive process.
David Basckin is a freelance journalist and videographer.