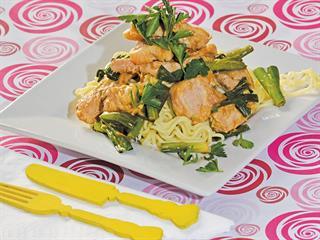 To feed four gloriously indulged diners with twice- cooked pork belly, you will need:
1kg pork belly
15g salt
8 cloves garlic
14 spring onions
40mm fresh root ginger (see surreal peeling advice)
20ml Old Brown Sherry
20ml soy sauce
25ml Hoisin sauce
1 bunch fresh coriander (dhania)
5g Sichuan peppercorns
50ml peanut oil
Firstly, some notes on supplies and substitutes. Hoisin sauce is available from major supermarkets. Mrs Ball's Chutney (with chilli) is an unorthodox but workable alternative. Sichuan peppercorns can be found in specialist food shops where they are sometimes labelled Sichuan berries. Peanut oil is first choice, but a teaspoon of peanut butter mixed with warm sunflower or canola oil makes an admirable workaround. The pork belly must be fresh (that is, not smoked) and in one piece.
Let's begin. Peel the ginger with a teaspoon. This is not a misprint – ginger peeling is a cinch with the right tool. Scrape the ginger root with the tip of the teaspoon and the thin skin slides off. Do this at the dinner table and amaze your friends. Maybe take a few bets before the demo.
Immerse the pork belly in a large pot, and add half the finely chopped ginger, salt and half the spring onions, including the green tops. Bring the pot to the boil, then immediately reduce to a gentle simmer. Fit the lid and let it cook for two hours, by which time it will be tender. Remove, dump the juice, skin the belly and discard the bones. Cut the belly in half, then cut each half into thin, uniform slices. Dab with a paper towel to remove the water. Cooking procedure No. 1 has ended. Cooking procedure No. 2 should now occupy your full attention.
Finely mince the garlic and remaining half of the ginger. Cut the remaining spring onions in half lengthways then cut them into 50mm sections.Now for the stir-fry. A wok is best, a skottel a close second, and a large frying pan just workable. The big issues are high heat, careful timing and full concentration. Heat the oil until very hot, on the edge of smoking. Add the pork belly and stir-fry for seven minutes. Lower the heat. Pour off most the oil and fat.
Add the finely chopped garlic and ginger and stir-fry for 20 seconds. Drop in the spring onions and stir-fry for two minutes. Taking great care – you are adding water-based liquids to hot oil – pour in the soy sauce, Old Brown Sherry, Hoisin sauce and freshly ground Sichuan peppers. Stir like crazy to evenly distribute the ingredients for 60 seconds, then remove from the heat and wipe your steaming brow.
Serve with rice or noodles, garnishing with washed dhania leaves. What a winner!