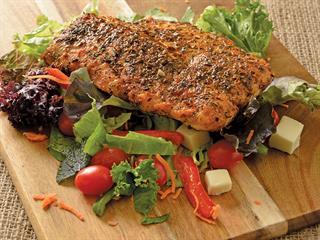 To make Cajun fish for four swamp-livin', jazz-lovin', accordian-playin' diners, you'll need:
4 or 8 frozen hake fillets
2 tablespoons dried oreganum
2 tablespoons dried thyme
4 tablespoons coarse salt
3 tablespoons ground paprika 
1 tablespoon freshly and coarsely ground black pepper
1 teaspoon garlic powder
1 teaspoon onion powder
1 teaspoon brown sugar
1 teaspoon cayenne or ground dried red chillies
And you don't have to speak Louisianan!
First things first. Chill the lager. Then, before we vanish in heat haze and smoke, here are a few calming thoughts. There are many recipes of this sort; this particular collection of herbs and spices is an eclectic mix that works for me. These spices are not even remotely a curry masala, nor should they be. The presence of garlic powder, onion powder and dried herbs in place of fresh ingredients testifies that the Cajun spices are meant to smoke on contact with high heat in order to create the Cajun culinary effect.
Ready? Select a large, heavy-based frying pan and bring it up to high heat. The pan must be powerfully hot. Mix all the spices and dried herbs together, then grind them to a coarse dust. If there is a small surplus, store it for next time in a tightly sealed container.
Thaw the frozen hake, using a paper towel to dry it. Place the fillets on a work surface, then rub a little sunflower or canola oil over the entire surface of each fillet. Generously sprinkle the spice mix over the fish. The key word is 'generously': let there be excess.
Place the seasoned fillets on the super-hot pan. Smoke may pour forth, a spurt of flame may even appear as the oil ignites.
Remain unfazed. Do not extinguish it with liquid; rather beat it out with a kitchen tool.
Watch the cooking time: for standard frozen hake fillets, 2 to 2½ minutes a side will be perfect. Fit the lid for the last 30 to 40 seconds to complete the cooking process, then swiftly remove the fish from the heat. This magnificent rule-breaking way of cooking produces fish fillets that are blackened – and I mean totally black – on the crusty exterior and moist and flavoursome within. Serve this extraordinary take on hake immediately, providing a quarter lemon per diner to anoint his or her meal. Green salad goes splendidly with this spicy, smokey fish, as does a mound of buttery, sweet potato mash.
Meanwhile, back in the fridge the lager is chilled and ready…
Y'all enjoy your meal now.