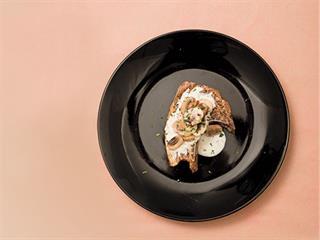 To make lamb chops with mushrooms and crème fraiche for four people, you will need:
4-8 lamb chops cut thick (20mm)
150g mushrooms
1 small onion
90ml dry white wine
180-200ml crème fraiche
10 cloves of garlic (and I mean it)
1 sprig fresh thyme or origanum
2 tablespoons freshly chopped parsley
Butter on demand
30ml canola or sunflower oil
Salt and coarsely ground black pepper on demand
This is a great dish for the beginner cook keen to show off his new skills. While it is structurally simple, the unusual combination of tastes gives this meal a real lift in quality and complexity of flavour. First, the meat. Good cooks have good relationships with good butchers. The lamb for this recipe is ideally loin chops cut thick, and more importantly, cut evenly. Chops butchered to the same thickness cook evenly, which is a big deal in maintaining quality.
Next, the mushrooms. As with all good things, the fresher the better. Our visit to the local Shongweni Farmers' Market provided huge (75mm diameter) white mushrooms with pale pink gills unlike anything available in the supermarket. The crème fraiche is a subtle and welcome flavour. If you can't find it, soured cream is a suitable alternative. We begin. Finely chop the small onion and carefully fry it in a small saucepan with 25g butter until the onion is translucent.
Add the wine, thyme or origanum and a pinch of salt. Let this simmer until the liquid is reduced by half. Peel but do not chop the cloves of garlic. Add nine of them plus the crème fraiche or sour cream and let this simmer gently for half an hour or so, by which time the garlic cloves should be soft. With a handheld immersion blender or a food processor, macerate the mixture to an ultra-smooth purée. Pour it back in the saucepan to keep it warm for later.
Thinly slice the fresh mushrooms. Mince the sole remaining peeled raw clove of garlic and fry this, plus the mushroom slices, in 45g or so of butter (add more butter if you need to). Take care to avoid burning. Pour the cooked mushrooms and garlic into a covered bowl, kept warm.
Season the lamb chops with coarse, freshly ground pepper and a little salt if you wish. The big deal here is the pepper, not the salt. In another frying pan, heat up the canola or sunflower oil, then fry the chops at a medium-high hob temperature for three or four minutes per side, or a little longer if your guests prefer their lamb well done.
Reheat the garlic cream if necessary. Pour a little around the chops on each plate and top the meat with the mushrooms, plus a generous sprinkling of parsley. This is one hell of a meal. Enjoy it.