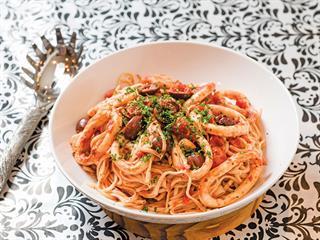 To make calamari in tomato sauce to feed four diners, you will need:
500g fresh or frozen calamari
200ml home-made tomato sauce
100ml white wine
Extra virgin olive oil
Bunch of fresh parsley
25 black olives
500g spaghettini, angel hair or linguini
For the sauce
6 tomatoes
3 tablespoons brown sugar
1 sachet tomato concentrate
3 cloves garlic
1 stick cinnamon
25ml balsamic vinegar
1 clove
Seafood lovers far from the sea, do not despair: the finest calamari awaits you in the freezer of your local supermarket.
Let us begin. First, the tomato sauce. Yes, I know this usually comes bottled by the manufacturer, but this version tastes so much better. Begin by blanching the tomatoes for 60 seconds and then sliding off the skins.
Coarsely chop and combine them in a frying pan with the rest of the sauce ingredients. Bring this up to medium heat, stir from time to time to avoid adhesion, and let the sauce thicken to the density you prefer. Discard the used clove and cinnamon stick, season with salt and pepper, and the sauce is done.
If you've bought frozen calamari rings, ignore the next paragraph. If you've bought fresh calamari, you will need to clean the beasts. Begin by pulling (not cutting) off the heads. Retain a couple of tentacles for décor. Turn the bodies inside out, and reject all the contents. Under running water, rub the bodies between your hands to remove the fine membrane that covers them.
Cut the cleaned calamari tubes into thin rings, season lightly with salt and pepper, and you're ready for the next event.
In a large saucepan, bring a couple of litres of lightly salted water to a rolling boil and get the pasta going for as long as the maker suggests on the packet. Back in the frying pan, add just enough olive oil to cover the bottom of the pan, bring the heat up to medium, and stir-fry the calamari for two to three minutes. Any longer and you'll produce rubber.
Swiftly add the wine and continue to stir until it has evaporated, or near as dammit. Add the olives – de-pipped and cut into halves – plus the finely chopped parsley. Pour in the tomato sauce and cook for an additional 60 seconds. Drain the pasta into a generous serving dish, pour over the contents of the frying pan and mix. Add a garnish of fresh, chopped parsley.
A couple of ice-cold Windhoek lagers completes the magic, while wine lovers will prefer a chilled high-end Chenin Blanc or Swartland Bukettraube.