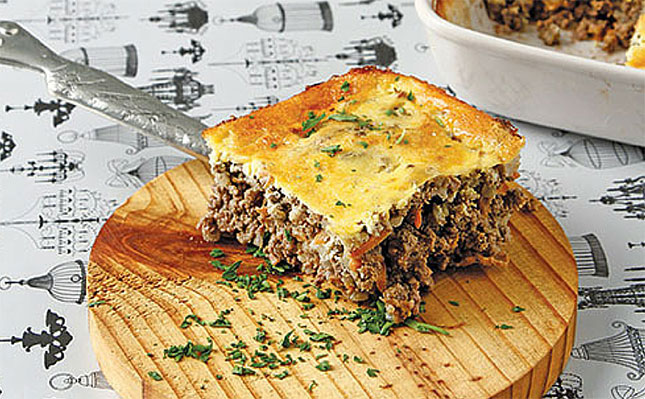 To make a classic bobotie for 4 to 6 diners, you will need:
300g minced lamb or mutton
300g minced beef (topside)
3 slices of white bread
2 carrots
3 eggs
50ml canola or sunflower oil
2 big onions
5 cloves of garlic
1 or 2 bay leaves
60mm fresh ginger root
1 tablespoon of jaggery (aka palm sugar)
1 lemon
125ml cream
125ml plain yoghurt
For the masala
1 teaspoon whole coriander seeds
1 teaspoon white cardamom pods
1 teaspoon whole cumin seeds
½ teaspoon ground nutmeg
75mm cinnamon stick
2 dried chillies
Begin with the masala. Spill the whole spices, excluding the ground nutmeg, into a clean, dry pot and bring this up to medium heat.
As the aroma of roasting spices becomes evident, stir them until they are a slightly darker brown all over.
Remove from the heat, taking care to avoid burning. Using a mortar and pestle or an electric spice grinder, reduce the lightly toasted spices to a fine powder. Add the ground nutmeg and reserve for later.
Peel and grate the ginger, grate the carrots, peel and thinly slice the onions, and crush, peel and mince the garlic.
Select a heavy-based frying pan. Pour in sufficient canola or sunflower oil to thinly cover the bottom and add the garlic and ginger.
Fry these over medium heat for 90 seconds. Add the sliced onion and let this sweat until soft.
Add the minced mutton and beef, crumbling these through your fingers.
When browned, add the masala mix you've made, plus the bay leaves and grated carrot. Sprinkle the jaggery (or brown sugar, if jaggery is difficult to find) into the mix.
Squeeze in the juice, but not the pips, of a large lemon. Season to taste with a little salt and black pepper. Add a little water to the white bread, pulp it by hand, and add it to the mix, stirring well.
Preheat the oven to 180°C.
Now for the custard topping. Pour the meat mixture into a rectangular low-sided oven dish. With an electric mixer, combine the cream, yoghurt, two whole eggs and one separated yolk.
Pour this over the meat and stick it in the oven for 30 to 40 minutes, until the custard is a soft and delicate brown.
I prefer good basmati rice with this meal, although plain, long-grain boiled rice is almost as good.
A potent mango pickle adds a few more colours to the rainbow, while freshly chopped onion, tomato and maybe one green pele-pele KZN chilli adds its own complexity.
Dop? A very cold pilsener.