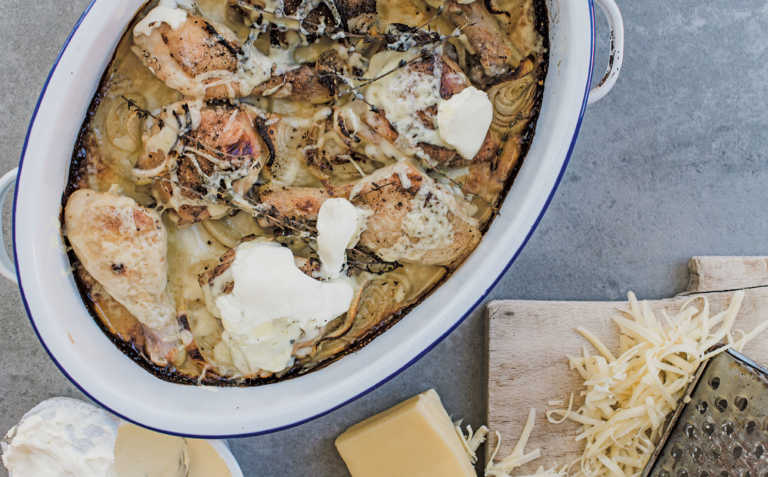 To make this astounding meal for four lucky diners, you will need:
A 2kg chicken
3 onions
2 cloves of garlic
300ml dry white wine
150ml crème fraîche
4 tablespoons of Dijon mustard
150g of Emmentaler cheese
2 tablespoons of canola or sunflower oil
2 tablespoons of butter
Coarse salt on demand
This meal is one or two clicks up from a beginner's recipe. The minor complexities are well worth the effort for the pleasure of the diners and the self-esteem of the cook.
1 Section the chicken into thighs, drumsticks and breasts (cut into halves). You can freeze the back and wings to make chicken stock. Peel and very thinly slice the onions. Crush, peel and mince the garlic.
2 Preheat the oven to 100°C. Lightly salt the chicken pieces, and select a large, heavy-based frying pan. Over medium-high heat, melt the butter with the canola/sunflower oil. Add the chicken pieces four at a time and let them brown all over for 10 minutes, keeping them moving to avoid burning. Repeat with the second batch. Reserve the oil in the pan for later.
3 Select an oven-proof dish and arrange the browned chicken in it in one layer under a lid of aluminium foil. Stick this into the oven while you complete the next process, which takes 12 to 14 minutes.
4 Use four tablespoons of the butter/oil mixture, and return the frying pan to the heat. Sweat the onions and garlic for about 10 minutes or until they are soft and translucent. Raise the heat to medium-high, pour in the wine and let the contents simmer for two to three minutes.
5 Remove the chicken from the oven and add the drumsticks and thighs to the frying pan. Drop the heat to a simmer and cook the brown meat for five minutes a side, turning once to total 10 minutes. Add the breast sections and cook the entire contents of the frying pan for an additional 10 minutes. Reserve undercover.
6 Add the crème fraîche, Dijon mustard and one teaspoon of salt to the pan, and mix with the juices already in the pan.
7 Turn on the grill. Grate half the Emmentaler cheese into the base of an ovenproof dish large enough to take all the chicken pieces in one layer.
8 Arrange the chicken sections over the cheese, pour in the onion and garlic sauce, then top with the remainder of the grated cheese.
9 Grill until the cheese on top bubbles and turns golden. Serve with plain white rice.
David Basckin is a freelance journalist and videographer.