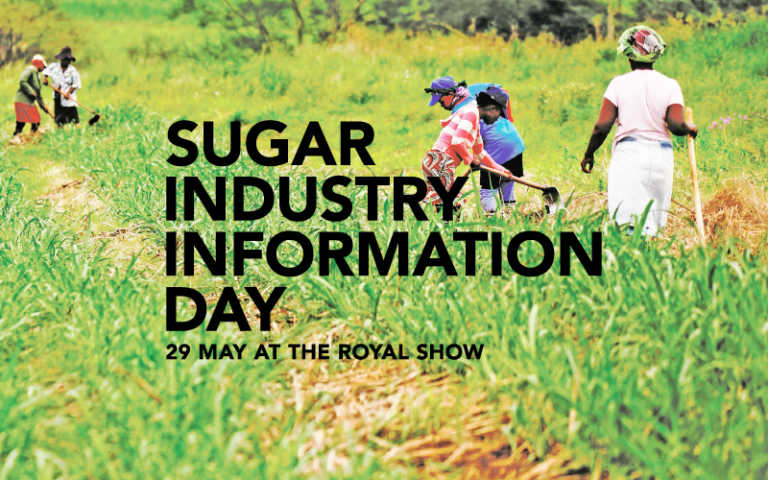 The Sugar Industry Information Day at the Royal Show, brought to you by Farmer's Weekly.
Date: 29 May 2019
Time: 8:30 to 12:00
Venue: Royal Show Showgrounds, Pietermaritzburg
Price: R150pp
Bookings are closed!
Farmer's Weekly will host an information day for interested parties in the South African sugar industry at this year's Royal Show in Pietermaritzburg.
The event will bring together leading agricultural economists and role players throughout the sugar value chain, to discuss the challenges facing sugar production and share ideas on how to ensure a sustainable future for the industry.
Limited seating available.
*Bookings are closed.
Programme
8:30 – 9:00: Registration (Tea and coffee)

9:00 – 9:10: Welcome by Denene Erasmus, Editor of Farmer's Weekly
First Session
9:10 – 9:40: Economic Snapshot and Outlook
Paul Makube, Senior Agriculture Economist
South Africa's macroeconomic situation and outlook over the medium term, as well as a look at global agri commodity price trends and the factors likely to influence them over the medium term.
9:40 – 10:00: Co-generation: Solving the sugar industry and South Africa's energy woes
Philemon Nkosi, General Manager of Illovo Eston Mill
How South Africa's sugar milling industry can further develop electricity co-generation at sugar mills to unlock an additional revenue stream for the industry, while feeding electricity into the national energy grid to relieve pressure on the Eskom energy supply.
10:00 – 10:10: First session Q&A
Second Session
10:10 – 10:25: Industry perspective
Hans Hackmann, Chairperson, South African Sugar Association
The contribution that the sugar industry makes to job creation and the economy in South Africa, and why it is imperative that the industry be supported by the private and public sectors.
10:25 – 10:40: Sugar industry transformation
Dr Siyabonga Madlala, Chairperson of the South African Farmers Development Association (SAFDA)
The transformation of the sugar industry and its impact on small-scale and land reform beneficiary growers, since SAFDA was officially recognised through the Government Gazette in October 2018.
10:40 – 11:20: Panel discussion on the production, supply and price situation of sugar cane, from the growers' and millers' perspective.
Richard Nicholson, Economics Research Manager of the South African Canegrowers Association
Dr Siyabonga Madlala, Chairperson of the South African Farmers Development Association
Rolf Lutge, Vice Chairman of the South African Sugar Mills Association, and CEO of UCL Company
Hans Hackmann, Chairperson of the South African Sugar Association
11:20 – 12:00: Networking and light refreshments