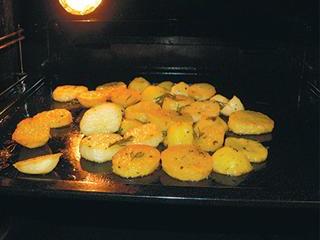 To make roast potatoes for four, you will need:
12 medium potatoes
Coarse salt
A couple of sprigs of fresh rosemary
Extra-virgin olive oil on demand
Freshly ground black pepper
First, the potatoes. For this meal, I decided to use two varieties of fresh potatoes to see if there was any discernable difference in the final product. The pale potatoes came from what the marketing business likes to call a high-end supermarket, while the dark ones were bought from an organic stall at the local farmers' market. The high-end supermarket potatoes were sold clean, while the organic dudes came complete with a healthy sample of Mother Earth.
Begin by scrubbing all the raw potatoes with a stiff-bristled brush in cold water. Then peel the potatoes, cutting them into thick slices – say, 15mm to 20mm. Bring a 2l pot of lightly salted water to the boil, and let the peeled potatoes boil until soft. Take care to monitor the boiling process to avoid disintegration. Remove the potatoes on completion and reserve in a covered bowl.
Preheat the oven to 180º. While this is going, pour a couple of tablespoons of extra-virgin olive oil onto a large roasting pan and spread it to coat the surface lightly. Arrange the boiled potato sections on the oiled pan and then drizzle a little extra olive oil over each slice. Place a tablespoon or so of coarse salt in a mortar and pestle and crush it slightly. The effect we want here is to produce small but discernable crystals of salt. Sprinkle these lightly over the oiled potato sections.
Do the same thing with freshly ground or pounded black pepper. Now for the herbs. It is always best to use fresh herbs in cooking, and on the lush, sweaty, semi-tropical coastal belt of KZN, rosemary grows like a weed. Select a few prime sprigs, knock off any resident wildlife, and rinse in running water. Arrange these at random over the potato slices, then stick the roasting pan into the oven.
Let the potatoes roast for 60 minutes, inspecting them during the last 10 minutes. What you get for all this untraditional fuss is a collection of roast potato slices, soft in the middle and surrounded by a crisp and golden crust. There are few pleasures on earth that can even begin to compete. In my family, potatoes done this way accompany chicken breasts marinated in lemon and olive oil, then cooked in a covered black cast-iron pot over a medium gas flame. A green salad enlivened with feta completes the menu, while this cook complements the meal with an ultra-chilled Pilsener poured into a long, long glass.