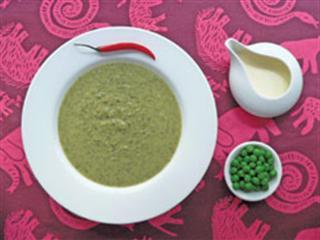 To make green cilantro soup for four, you will need:
For the stock:
3 onions
3 sticks celery
3 carrots
3 bay leaves
1,2l water
For the green cilantro soup:
1l of vegetable stock
1 potato
1 onion
30mm fresh root ginger
A large bunch of fresh dhania/coriander/cilantro
200ml cream
1 teaspoon freshly ground coriander seeds
3 teaspoons freshly ground cumin (jeera) seeds
1 red chilli
1 lemon
300g frozen peas
Begin by making the fresh vegetable stock. Coarsely chop the onions, carrots and celery. Place these with the three bay leaves in a saucepan containing 1,2l of water. Bring this to a swift boil, then simmer with the lid on for 60 minutes. Drain, discarding the solids. This produces close to a litre of the stock you require. Peel and dice the potato. Peel and chop the onion. Grate the fresh ginger or alternatively peel and finely chop it. Grating is quicker.
In a dry frying pan, toast the coriander and cumin seeds over medium heat until fragrant. Remove from the heat and grind them finely either with a dedicated spice grinder or with a mortar and pestle. While a fussy slow process to some cooks, the toasting and fresh grinding makes a real difference. Wash the fresh coriander sprigs, cut off the roots and finely chop the leaves. Measure six tablespoons of the chopped coriander. Squeeze the lemon and reserve the juice.
Chop the red chilli taking care not to touch your eyes or any other sensitive parts of your body until you have washed the chilli juice off your fingers. Select a suitable saucepan and pour in the freshly made vegetable stock. Add the potato, onion, ginger, ground spices and bring the pot to a rolling boil. Fit the lid and reduce the heat to a mild simmer for the next 30 minutes. At this point add the fresh or frozen green peas, a tablespoon or two of fresh lemon juice and the freshly chopped coriander leaves.
Bring the pot back to boil, then reduce to a simmer with the lid off, for four minutes. Remove the pot from the stove and with a plunge macerator or hand-held blender, reduce the soup to a smooth consistency. Alternatively, achieve the same outcome with a standard blender. Add the cream and slowly heat up the soup until ready to serve. Salt the soup to taste and stir well.
Serve with additional cream on the table for those brave folk who have no cholesterol anxieties. A couple of fresh, hot roti make a splendid and appropriate accompaniment. If roti are unavailable, substitute a baguette or fresh soft roll.
Enjoy!

Contact David Basckin at [email protected]. Please state 'Real cooking' in the subject line of your email.