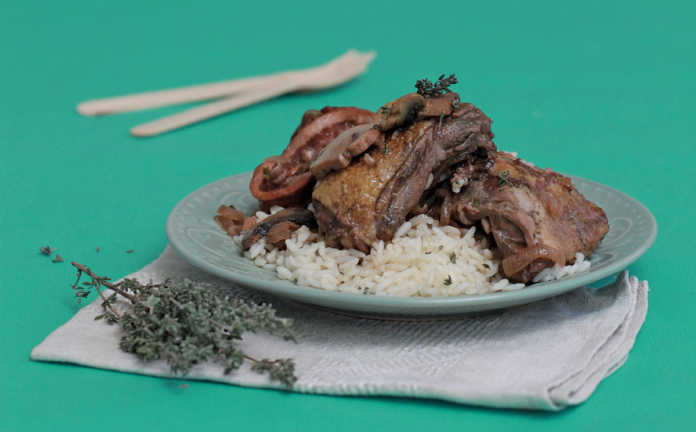 To cook guinea fowl for four lovers of the great outdoors, you will need:
2 guinea fowl, plucked, cleaned and ready to cook
20g butter
150ml Old Brown sherry
350ml dry red wine
8 big brown flat-topped mushrooms
1 punnet of button mushrooms
3 large red onions
200g streaky bacon
4 sprigs fresh thyme
Freshly ground black pepper
1 bunch parsley
2 cloves garlic
Cut the guinea fowl into these portions: drumstick and thigh in one piece, wing and a third of the breast, the rest of the breast, the back.
Crush and peel the garlic; peel and thinly slice the red onions; finely chop all the parsley.
Select a large casserole pot with a fitted lid. Melt the butter within it at a low heat, taking care not to burn it.
Add a few portions of guinea fowl, raising the heat to medium, and allow these to brown all over. Remove and reserve under cover.
Continue the browning process until the rest of the guinea fowl pieces have undergone this minor act of transformation.
Chop the bacon and add it to the buttery juices in the pan. Let these sweat for a couple of minutes until most of the bacon fat has melted.
Visually check the amount of fat in the pot; if you judge it insufficient, add a little extra butter. Sweat the crushed garlic and thinly sliced onions for as long as it takes for the onions to become soft and translucent. Add the browned guinea fowl sections.
If, at this crucial point, you discover that your biggest pot is not quite big enough, do not get overly emotional – stay cool. Locate a second pot and transfer half the cooked bacon, onion and garlic mixture plus some of the pan juices. Then add the guinea fowl portions.
Two pots for two guinea fowl. Sounds like a song. Still humming, cut each large brown mushroom in half and add equivalent quantities to each pot. Rinse the button mushrooms and add half the total to each pot.
Add two sprigs of thyme to each pot.
Mix the sherry and red wine, taking care with the proportions, and pour half into each pot.
This should cover most of the poultry. If it fails to do so, be bold: add extra red wine. Sprinkle in half a teaspoon of coarsely ground black pepper, stir, and bring both pots to a gentle simmer for 40 minutes or so.
If necessary, balance the seasoning with a little salt to taste, not forgetting that the bacon is full of the stuff. With a slotted spoon, remove all the solids and reduce the volume of the sauce by one-third with rapid boiling, carefully monitored.
Kill the heat, return the solids, stir them into the thickened sauce, pour over a layer of finely chopped parsley and serve with rice or mashed sweet potatoes.
What a feast of flavours.