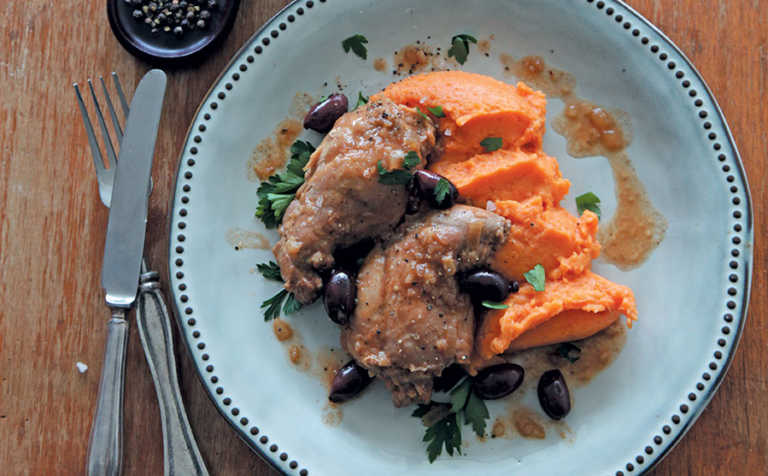 To cook a rabbit sufficient to feed four diners, you will need:
One ready-to-cook rabbit of 1,3kg to 1,5kg, skinned, headless and eviscerated, cut into 6 to 8 sections
2 cups of chicken stock
2 cups of water
1 cup of dry white wine
3 tablespoons of extra virgin olive oil
3 tablespoons of butter
2 onions
5 cloves of garlic
1 cup of black olives, depipped
1. Peel and finely chop the onions and the garlic. Over medium heat, combine two tablespoons each of the extra virgin olive oil and the butter in a large, heavy-based frying pan or cast-iron skillet.
Add the chopped onions and let them sweat for 15 minutes, taking care to avoid adhesions and burning. Pour in the chopped garlic and let the combination sweat over the same medium heat for a further 15 minutes. Maintain vigilance, giving an occasional stir.
Remove the garlic-onion mass and reserve undercover in a bowl, retaining as much of the butter/olive oil mixture as possible in the frying pan or skillet.
READ Practical tips for starting a rabbit farm
2. Lightly salt the rabbit sections. Bring the residual butter/olive oil up to medium-high heat, add the remaining unused butter and olive oil, and fry the rabbit for four minutes until browned. Remove and reserve under cover until later in the proceedings.
3. With the tool of your choice, say an egg lifter, scrape and retain the browned bits off the bottom of the pan, then pour in the wine. Let this bubble away until half the volume has boiled off, then add the chicken stock and cooked garlic/onion mix.
Add the browned rabbit sections, reduce to a slow simmer, and cook for an hour or more until the meat is tender. Stir from time to time to avoid burning. Remove the cooked rabbit sections and reserve under cover.
4. Rev up the hob to medium-high and boil the pan liquid until it begins to thicken. Add the depipped olives. Return the rabbit to the pan, bring everything gently back to a comfortable serving temperature, and plate the contents equally amongst the diners.
A buttery sweet potato mash or freshly boiled Basmati rice is a splendid addition, allowing all the carbs you need to soak up the juices.
David Basckin is a freelance journalist and videographer.