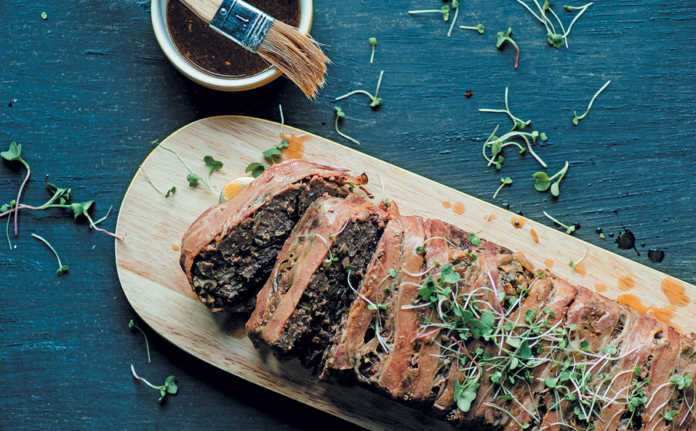 For a meatloaf for four to six, you will need:
2 large onions
2 cloves of garlic
150g mushrooms
4 sticks of celery
2 large tomatoes
1 bunch of parsley
10 leaves of fresh basil
2 large green peppers
30g butter, or virgin olive oil if preferred
2 eggs
500g minced beef
250g minced pork
100g breadcrumbs
60ml Worcestershire sauce
A pack, or two, of streaky bacon
Salt and freshly ground black pepper to taste
This recipe is mostly about preparation, as the cooking part could not be simpler. First, preheat the oven to 220°C, as it may take some time to achieve peak heat. Peel and chop the onions; peel and mince the garlic; and chop the mushrooms and celery.
Bring a pot of water to a roiling boil and drop in the tomatoes. After one minute, remove them and slide off and discard the skins. Chop the blanched tomatoes, parsley and basil, then top, tail and deseed the green peppers and cut into strips.
Bring a heavy-based frying pan or cast iron skillet up to medium heat and drop in the butter.
Add the chopped vegetables and herbs to the frying pan and cook for a few minutes, stirring occasionally to prevent sticking. Cook until the juices have evaporated, adding extra virgin olive oil or butter as needed. Remove from the heat and let the pan cool under cover.
Crack the eggs into a large bowl and beat together with a fork, then break up the beef and pork and add to the mixing bowl. Stir well with a wooden spoon, then add the breadcrumbs and Worcestershire sauce. Substitute with light soy sauce if you prefer.
Add salt and pepper to taste, and, once again, mix everything well.
Choose a suitably sized bread-baking tin and pack in the mixture. Alternatively, hand-shape an oval loaf in a roasting pan. Overlap slices of streaky bacon across the top of the meatloaf. This is a vital contribution to the overall flavour, not mere decoration.
Bake in the oven for 50 minutes, or slightly less if you prefer a hint of pink in your meatloaf.
Once it's out of the oven, leave the loaf to rest for 20 minutes before slicing and serving, ideally with a crisp and crunchy green salad and an ultra-chilled Windhoek lager.
David Basckin is a freelance journalist and videographer.