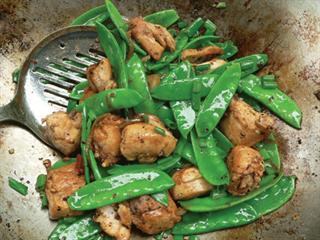 To make stir-fried chicken with galangal and Sichuan peppers for four, you will need:

4 chicken breasts
1 big red chilli
50mm galangal
1 teaspoon Sichuan peppers
1 teaspoon standard black whole peppercorns
50ml light soya sauce
50ml Old Brown Sherry
1 punnet mangetout
1 onion
4 spring onions
Sunflower or canola oil

To stir-fry properly you need a roaring gas flame and a wok. If you lack these refinements, a Cadac and skottel work almost as well. As with all stir-frying, let me suggest you do this outdoors to keep the fine spray of atomised oil off the walls, ceiling and floor of your kitchen.
This meal involves three non-standard ingredients: mangetout peas, which for some reason come to my supermarket from Kenya, galangal and Sichuan peppers. The last two can be found in any good Asian supermarket in the bigger cities. In Durban – being the original site of the Garden of Eden – fresh galangal grows rampant in my urban garden.
If you can't find galangal, substitute fresh ginger. This meal also works without Sichuan peppers, so don't be downhearted if you can't locate any. Grate or finely chop the galangal (or ginger). Grind finely with the black pepper and the Sichuan peppers in a mortar. De-pip the chilli and chop the rest. Fillet the breasts, discarding skin and bone.
Cut the flesh into bite-size chunks and not the matchstick-size shreds usually specified in stir-frying. Place the chunks in a bowl, mix them with the ground Sichuan and black pepper, then drench them with the soya sauce and Old Brown Sherry. Peel and finely slice the onion. Pour 100ml of oil into the wok and ignite the flame.
Maintaining full vigilance at all times, allow the oil to become smoking hot. Drop in the grated ginger or galangal and the chopped chilli. After 30 seconds, lower the heat and add the onions. Let these cook, with frequent stirring, until they're soft. With a slotted spoon, remove and put aside the contents of the wok except for the hot oil. Raise the heat once again.
Separate the chicken from the soya sauce and sherry, and add to the very hot oil. Stir-fry for three minutes. Lower the heat, return the cooked onion to the wok and add the entire punnet of mangetout. Stir-fry for 90 seconds then pour in what's left of the soya sauce and sherry mixture. Let this cook for 30 seconds, kill the flame and sprinkle freshly chopped spring onion greens over the contents of the wok.
Serve this fragrant and unexpected taste combination with white rice or Chinese noodles. If there are no noodles in your local shop, substitute the thinnest pasta you can find. Despite the taste of sherry, this meal cries out for an ice-cold Pilsener or two.
Contact David Basckin at [email protected]. Please state "Real cooking" in the subject line of your email. •FW