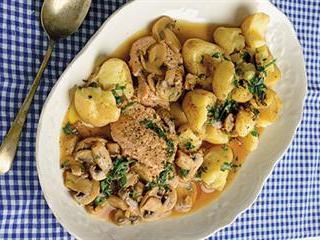 To make fillets in beer for four diners, you will need:
800g pork fillet • 400ml room temperature lager

6 chicken wings • 2 onions • 5 cloves of garlic

200ml dry white wine • 2 leeks • 6 button mushrooms

Fresh basil and origanum on demand

Butter

Extra virgin olive oil • Coarsely ground black pepper

Salt
To start with, this meal requires a good chicken stock. With a cleaver or a Chinese cooking knife, chop the chicken wings right through the bone into three or four chunks in each case. Roughly section the leeks and onions and cut the mushrooms into quarters. Tie the basil and origanum into a bunch with cotton thread. This assists their removal after use. Pour a little olive oil into a saucepan and bring it up to medium heat.
Add the chicken bits and vegetables for two minutes, stirring systematically to allow the hot oil to coat each surface. Pour in 700ml water and 200ml white wine and let the mixtures simmer for about 50 minutes, stirring from time to time. Strain when ready, discard the solids and retain the stock under cover.
Wash the saucepan, then pour into it 400ml lager and 500ml of the stock. Crush, then peel, the garlic and add it to the pan.
Rev the hob to the red line and let the contents boil until the volume has reduced by half. Dump the garlic and save the liquid under cover; let's call this Blend A. Now cut the pork fillets into pieces 70mm in length, then cover them with cling film and lightly pound them with a hammer until 15mm thick. Season with salt and black pepper.
Pour extra virgin olive oil into a large pan just sufficient to thinly cover the interior base. Bring up the heat gently and add a tablespoon or two of butter. When the butter and oil have combined, fry the pork sections for three minutes per side. Keep the cooked meat warm and under cover. Now for some drama. Rev up the hob to maximum temperature once again and pour in Blend A. Mix in two or three tablespoons of butter. This will spatter all over the place, but will result in the most enviable glaze on the resultant sauce. This is a big deal moment; own the pride.
Time to dish up. Create a tidy mound of mashed potato and arrange a couple of fillet medallions on top. Pour the sauce over them, with a small sprig of fresh origanum or half a torn basil leaf as a garnish. Crack open ultra-chilled Windhoek lagers all round, and enjoy the praise with suitable modesty.