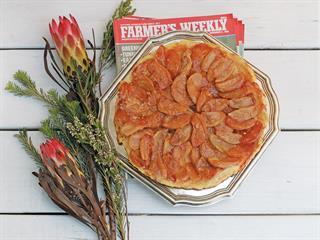 To make six generous servings of upside down apple pie, you will need:
8 big, non-floury apples
90g butter
140g brown sugar
250g puff pastry


It's hard to accept that something that looks so good and tastes so marvellous can be so simple to prepare. To begin with, you can use ready-made pastry from the supermarket freezer; it works like a charm.
Start with the apples. Cut off the base so that each fruit has a flat bottom. Peel, then cut, each apple into quarters, removing the pips and apple core. Chill in the fridge for 24 hours to partially dehydrate the fruit.
And it was the morning of the second day, and lo! The apple was already light brown and ready to go.
Preheat the oven to 190°C. Once again, use cast- iron cookware, ideally a 250mm diameter iron skillet. Alternatively, use the same configuration in Corningware. Generously coat the skillet with soft butter lightly covered with brown sugar.
Now for the synthesis of art, geometry and apple pie. Trim a piece of apple into a button shape and place this in the centre of the skillet. Arrange the apple pieces on their flat bases close together in concentric circles round the centre. Roll out the pastry to 3mm thickness, then cut out a 250mm circle. Arrange this on top of the apples in the pan.
Place the skillet on the hob at medium heat. Boiling, light-brown juice will emerge round the edges. If it rises higher than the pastry, spoon off and discard the excess. Cook until the juices turn dark brown after 10 minutes or so, then stick the skillet into the preheated oven for 45 minutes until the pastry firms up and darkens.
Remove and allow to cool for a few minutes, then carefully turn the dessert out of the skillet and onto the serving plate.
Would you believe it? An elegant upside-down apple tart!
All it needs now is a scoop of vanilla ice cream on the side per serving.