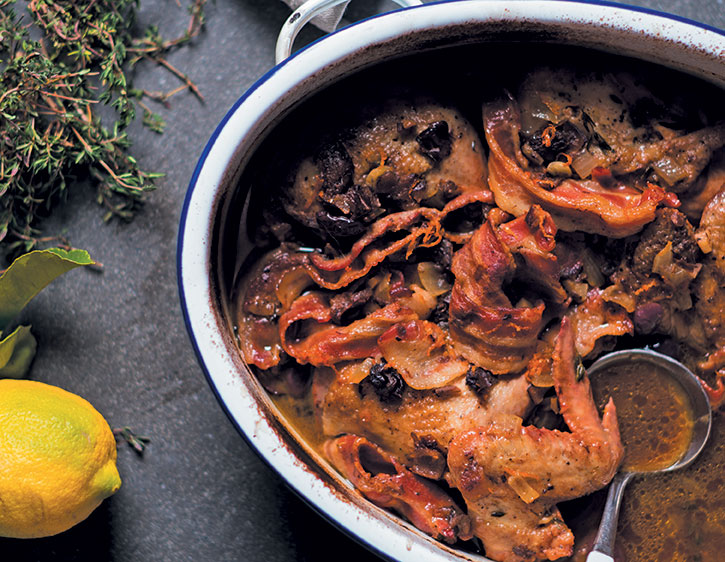 To make this meal for four, you will need:
For the chicken
1 large broiler fowl
1 onion
5 rashers of streaky bacon
45ml extra virgin olive oil
1ℓ homemade chicken stock (or made from cubes)
3 cloves of garlic
Zest of half an orange
Zest of half a lemon
4 sprigs each of thyme and oreganum
15 dates
20 brined Cape olives
For the mashed potatoes
1,2kg of potatoes
8 cloves of garlic
90g butter
180ml milk
Salt and freshly ground black pepper to taste
Remove the pips from the olives and dates. Section the fowl into drumsticks, thighs, wings attached to one-third of the breast, and the remaining two-thirds breast sections. Peel and thinly slice the onion.
Crush, peel and mince the garlic. Using a zesting tool, collect the zest from half an orange and half a lemon. Preheat the oven to 180°C.
Select a large, heavy-based frying pan, pour in the olive oil, and bring this up to medium heat on the hob. Season the chicken pieces with salt and black pepper, then let them sizzle in the hot oil skin-side down for 10 minutes, then on the other side for 10 minutes.
Transfer the pieces from the frying pan to an ovenproof casserole dish and fit the lid.
Add the bacon to the frying pan and let it cook at medium heat in the pan juices with the onion until the latter is soft and translucent. Lower the heat a little, and pour in the stock, garlic, herbs, olives, dates and zest, plus half a teaspoon of black pepper.
Let this simmer away until it reduces to two-thirds of the volume. Pour this over the browned chicken in the casserole dish, and cover with foil and the lid. Cook it in the oven for 45 minutes.
While this is going on, peel the potatoes and cut them into chunks. Mince the peeled garlic. Cover with water and bring the pot to a rolling boil. Fade the heat to medium and cook for 20 minutes.
Drain well. Then, with the mashing tool of your choice, mash the potatoes and garlic together. Heat the milk and stir it into the mash, adding the butter.
Dinner time. Dump the herbs and skim off excess chicken fat. Place a serving of the garlic mash in the middle of each warmed plate and arrange a piece or two of the cooked chicken on top. Pour a couple of spoons of casserole juice over the meal.
Summon the family to dinner and await the accolades.
David Basckin is a freelance journalist and videographer.