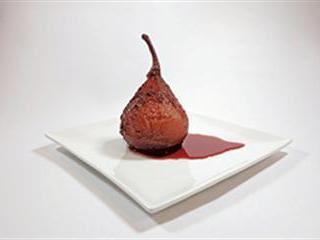 To make pears in red wine for four, you will need:

4 ripe, firm pears complete with stem
1 cup brown sugar
2 tablespoons orange zest
1 cup
freshly squeezed orange juice
3 cloves
½ teaspoon freshly ground nutmeg
2 sticks cinnamon each 250mm
1 teaspoon freshly grated ginger
3 cups dry red wine
Some issues before we start cooking: does the quality of the red wine matter? Some overly emotional foodies will
swear that they never cook in wine they wouldn't drink. Others, dominated by reason, will tell you that pears cooked in Mouton Rothschild taste no different from a homely litre box of dry red bought at Spar. Next, the pears. Chose the best for this dish.
No bruises, no deformations. Regarding the spices, cloves are a traditional adjunct to sweet fruit cookery. Go easy with the cloves since an excess delivers an old-fashioned cough mixture finish. Now for the sugar. For my first attempt I used castor sugar, and produced an overly sweet result. In my view, the faint molasses overtones of brown sugar work best with this recipe. Feel free to disagree.
And so it begins: peel the pears carefully, then slice off a few millimetres from the bottom to keep them vertical when serving. Select a large stainless steel saucepan and pour in the wine and brown sugar. Bring to a rolling boil to complete the dissolving process, then add everything else. Remember that cloves and cinnamon sticks remain whole and are not ground.
Let this simmer for 10 minutes to complete the infusion.
Leaving the pot on a low simmer, carefully add the peeled pears to the liquid. Partially fit the lid and let everything simmer away gently for half an hour or so. Near the end, test with a thin skewer, taking care not to disfigure the pear in doing so. During the simmering process, turn the pears carefully with a slotted spoon to ensure that they take up the red wine colour evenly.
Remove the pears when done to your liking. Reserve them under cover, then move on to the final process which involves thickening the sauce. Do this by raising the hob temperature to medium. Let the cooking juices bubble, stirring well from time to time to avoid adhesions and burning. Stop when the sauce has noticeably thickened.
Serve the dessert with a little of the thickened sauce poured over each pear. You may want to add to the general effect with a spoonful of thick, beaten cream. A couple of spoons of freshly made egg-based crème anglaise or custard work well, but for the very best addition, there is little to beat some ultra chilled vanilla ice cream lightly sprinkled with pecans.

Contact David Basckin at [email protected]. Please state 'Real cooking' in the subject line of your email.