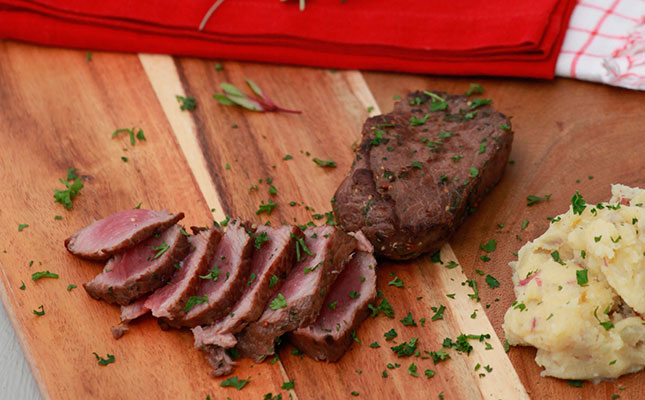 To make Kroonstad marinated game steaks for four hungry diners, you will need:

1kg leg or loin steaks cut from the game of your choice
150ml dry red wine
50ml brandy
150ml lemon juice plus the zest of two lemons
300ml olive oil
75ml Worcestershire sauce
200ml heavy soy sauce
4 cloves garlic
1 tablespoon chopped fresh parsley
1 teaspoon fresh ground black pepper
2 teaspoons (or more to taste) coarse salt
2 tablespoons dry mustard powder
My cousin recently reminded me that I spent most of my time in Kroonstad cruising its quiet streets in my uncle's red Dodge V8 bakkie. Yes, I was 14. Yes, I was a traffic outlaw.
Meanwhile, back in the kitchen, let's begin with the game. I used wildebeest, but this isn't the only game in town – feel free to pick your own. The big deal is the size of the steaks; these should be thick, at least 20mm.
On to the marinade. Begin by chopping the fresh parsley, then crushing, peeling and finely mincing the garlic. With a dedicated zesting tool or the little blade on your Swiss Army knife, remove the zest of the two lemons.
This is the outer layer of the peel only; it contains a concentration of aromatics.
Pour a couple of tablespoons of the red wine into a cup and mix it with the mustard powder, taking care to avoid lumps in the final result. The soy sauce should be the cooking variety (Kikkoman is best) and not table soy sauce.
Combine all the ingredients, bar the steaks, in a large mixing bowl. Using a ball whisk, mix the marinade well, then add the meat to the bowl, submerging it. Cover the bowl with clingwrap, then stick it in the fridge overnight.
If you are going to braai, you need no advice from me. If you plan to grill, heat a cast-iron skillet or dish for a few minutes on the hob or a gas ring.
Remove the steaks from the marinade and dry them with paper towel. Grill them to the degree of doneness you prefer, turning the meat every 30 seconds to produce a delicious light crust of caramelised blood sugar.
When grilled, cover the steaks with a 'tent' of aluminium foil and let them rest for 10 minutes; this ensures juiciness and a uniform temperature throughout each steak. Heat up the rest of the marinade, then reduce it by 25% with rapid boiling. Pour this over the steaks. Heerlik! Dankie, oom.
Serve with sweet potato mashed with butter and a silky smooth red wine.
David Basckin is a freelance journalist and videographer.