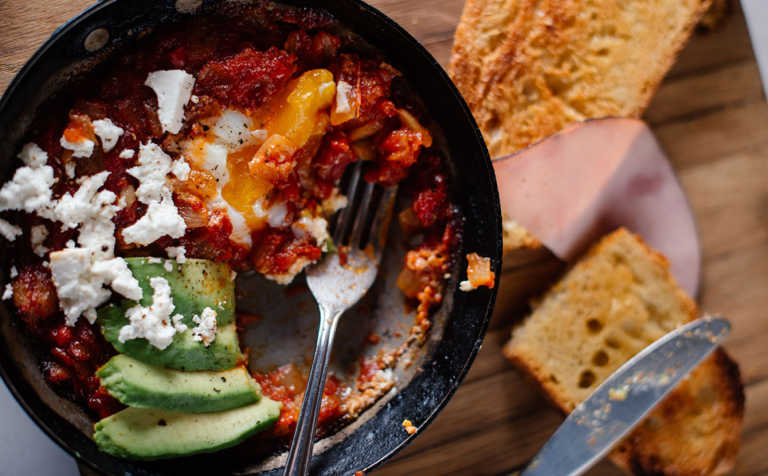 To make this breakfast for four lucky ranchers, you will need:
8 eggs
4 slices of toast
2 cans of tomatoes
1 onion
4 cloves of garlic
16 fresh dhania leaves
2 red hot KZN pele–pele chillies, or one large red one
1 level teaspoon of freshly ground cumin (jeera)
Half a cup of crumbled feta
4 or 8 slices of kaiser, or gypsey ham
Sliced avocado
Butter and canola oil
This is a deviant form of traditional Mexican food, enlivened by the addition of some ingredients and the blasé substitution of others.
Traditional rancheros (ranchers) wrapped their breakfast in tortillas. In the hands of those inexperienced in tortilla handling, this usually means a torrent of egg yolk down the sleeve.
I have replaced these with standard South African toast, freshly made and lightly caramelised by the heat.
The ham is unusual but very welcome, while the sliced avocado is simultaneously Mexican and KZNish.
We assume you prefer a cast iron skillet; if not, a pair of heavy bottomed frying pans should do the trick. Sweat the sliced onion, de-pipped chillies and minced garlic in a little canola oil until the onion is soft and translucent. Add the freshly ground cumin and stir well.
Pour in the contents of both cans of tomatoes including the juice. Mash the tomatoes with a fork, stir again and let it bubble over low heat until the sauce thickens. When done, fit the lid and remove the pan from the heat.
In frying pan number two, fry the eggs two at a time. Use medium heat to melt a 50/50 mix of butter and canola oil. When hot, break the eggs carefully into the pan, to produce runny yolks and firm whites.
Achieve this by spooning the hot oil-butter mixture over the frying eggs. When done, reserve under cover.
Return to the hot tomato sauce you've just made. Sprinkle fresh chopped dhania leaves over the mix and stir it in.
Arrange a slice of toast on each warmed plate, spoon over lots of the tomato sauce, sprinkle on a tablespoon of crumbled feta, add a layer of ham, then carefully slide two freshly fried eggs on top. Sprinkle with freshly ground black pepper, and maybe a little salt.
Hasta la vista, baby.
David Basckin is a freelance journalist and videographer.