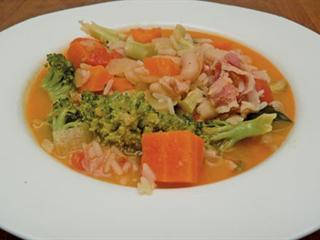 To make minestrone for four, you will need:

1,25l chicken stock
1 can of Italian white beans
50g hard Italian cheese (pecorino, Parmesan)
50ml extra virgin olive oil
50g pancetta
2 medium onions
3 cloves garlic
2 carrots
2 celery sticks
10-12 ZZ2 Romanista tomatoes
2 zucchini/courgettes/baby marrows
150g plain rice
100g fresh broccoli
Freshly ground
black pepper
Salt to taste
We begin with the chicken stock. You can use a cube or two if you wish, or you can make your own. To do this, add three chicken backs and four wings to 2l water, plus an onion, three celery sticks, two carrots, a sprig of fresh thyme and 100ml dry white wine. Bring to the boil, skim off scum, fit the lid and let it simmer for 50 to 60 minutes. Sieve, discarding all solids. Freeze the surplus.
Drain the can of beans, discarding the liquid. Peel the tomatoes by plunging them into boiling water for 90 seconds, then sliding off the skins once they are cool. Cut the tomatoes in half. Peel and thinly slice the onion. Crush, peel and mince the garlic. Cut the celery, zucchini and carrots into 10mm cubes. Cut the florets of broccoli off the stems and reserve them. Cut the stems into 10mm chunks and store them in a separate bowl. Weigh the hard cheese then grate it finely.
Chop the pancetta. Select a large, heavy-based saucepan with a fitted lid. Pour in the 50ml of extra virgin olive oil and bring this up to medium heat. Add the thinly sliced onions, the garlic and the chopped pancetta and let these sweat until the onions are soft and translucent. Add the zucchini, carrots, tomatoes, celery and broccoli stems and let them cook for seven minutes, stirring often to avoid adhesion. Pour in the stock (the home-made stuff is far superior) and bring the contents of the saucepan to a boil.
Add the rice and the drained contents of the can of white beans. Lower the temperature to a gentle simmer for 10 minutes. Ideally, there should be a bit of resistance between the teeth. Season with coarsely ground black pepper and as little salt as you can get away with. Finally, add the broccoli florets and let them simmer in the pot for five minutes or so. Sprinkle the grated hard cheese into the mix and stir well. Serve this magnificent winter soup with additional grated hard cheese available for each diner's personal taste. Enjoy.
Contact David Basckin at [email protected]. Please state 'Real cooking' in the subject line of your email.