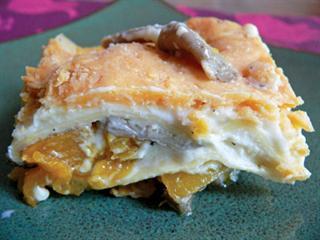 To make an oyster mushroom and pumpkin lasagne for four, you will need:

A quarter or third of a pumpkin
1 onion
3 cloves garlic
3 sprigs fresh thyme
Half a cup hand torn fresh basil leaves
A pack of lasagne pasta
Extra virgin olive oil
Freshly ground black pepper
For the white sauce:
300ml chicken stock
300ml milk
50g white flour
60g butter
Fresh green herbs for garnish
If pasta is to become a regular feature in your kitchen, consider making your own. It is a craft soon mastered and the taste benefits are considerable. If you plan to have it occasionally, buy the ready-made stuff from your local supermarket. Fresh ingredients can be found at the growing number of farmers' markets which are a real pleasure for city slickers like me.
Let's begin with the white sauce, a basic component of many dishes, and, in the historic recipe I use, a cinch to make. Begin by sifting the flour. You may think this unnecessary but the little bits of hard stuff that remain in the sieve will convince you that sifting is good for home cooking.
Mix the chicken stock and milk in a jug. Melt the butter in a pan over a low heat. Remove the butter from the heat and stir in the flour. Return the butter and flour mixture to the hob, keeping the heat low and stir in the mixture of milk and chicken stock. Preheat the oven to 180°C.
Cut the pumpkin into bite-sized chunks, discarding pips and skin. Peel and thinly slice the onion. Peel and finely chop the garlic. If using fresh herbs from your own garden, wash them well to remove any crunchy surprises. Tear the basil and leave the thyme whole on the sprigs. The oyster mushrooms are ready to go – all they need is to be cut in half.
Select a roasting tray and spread the pumpkin, oyster mushrooms, sliced onion, herbs and chopped garlic in a single layer. Drizzle a tablespoon or two of extra virgin olive oil over the contents of the tray, salt lightly, stick it in the oven and roast for half an hour or so.
Remove the roasted vegetables. Select a large glass or ceramic oven dish. Within this, arrange layers of lasagne pasta sheets, roasted vegetables and white sauce.
When all the pasta has been used, drench the entire meal with the remainder of the white sauce. Place in the centre of the oven and let it bake at 180°C for 40 to 45 minutes. Serve hot with a generous sprinkle of freshly ground black pepper and the hard Italian cheese of your choice.
Contact David Basckin at [email protected]. Please state 'Real cooking' in the subject line of your email.