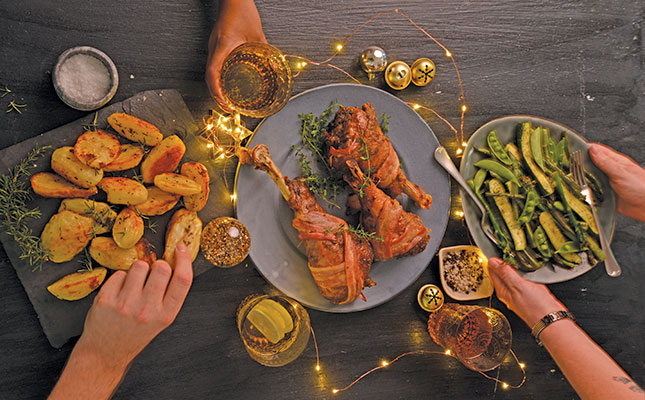 This recipe for turkey legs is quicker to prepare, and more economical than cooking the whole fowl, but the result is equally delicious, and a good option if you don't have fussy eaters (like my baby sister) who insist on breast meat only.
The duck-fat roasted potatoes are a fancy, recent addition introduced to us by my French brother-in-law, who married my older sister in 2018.
He also thinks he introduced us to the joy of fizzy wines, but we were in fact all partial to a glass or two of bubbly with our turkey long before he joined the family. – Denene Erasmus, FW Editor
You will need:
Turkey Legs
1 cup cake flour
Salt, pepper and BBQ spice
1 packet streaky bacon
⅓ cup olive oil
2 medium onions, sliced
3 cloves of garlic, sliced
2 carrots, sliced
3 sprigs of rosemary
3 sprigs of thyme
SERVES SIX
 Preheat the oven to 120°C.
Place the vegetables and herbs in a roasting pan with a tightly fitting lid.
Place the turkey legs and flour in a plastic bag and shake until they are covered in flour. Remove from the bag and shake off the excess flour. Season well with salt, pepper and BBQ spice.
Arrange the legs on top of the vegetables in the pan. Cover with bacon strips and drizzle with olive oil. Cover and bake for two to two-and-a-half hours.
Check during cooking and add a small amount of boiling water if the pan looks dry. The legs are ready when nicely brown and the meat is fall-off-the-bone tender.
Recipe for Duck-Fat Potatoes
8 medium potatoes
500g duck fat
4 sprigs of rosemary
Regular salt to add to water for boiling
Coarse salt to season the potatoes
Parboil the potatoes in salt water until almost done. Remove from the water, let cool slightly, and remove the skins.
Place a roasting pan with the duck fat in the oven and heat to 180°C.
Score the potatoes with a fork, place with rosemary in the heated duck fat and cook at 180° for ± 25 minutes, turning two to three times until crisp and golden.
Remove the potatoes and drain on paper towel. Sprinkle with coarse salt.
*Serve with vegetable sides and salads of your choosing.