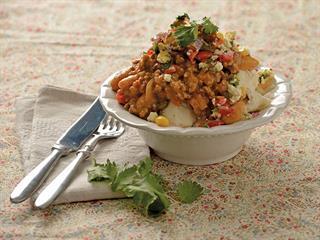 To make a chilli con carne for six flame-resistant diners, and mealie salsa as a side dish, you will need:
For the chilli con carne
900g minced topside beef
25ml canola or sunflower oil
150g streaky bacon
2 onions
2 to 4 jalapeños
7 cloves garlic
1 sachet tomato paste (or concentrate)
1 can tomatoes
1 can white beans
500ml chicken or vegetable stock
2 tablespoons ground cumin
1 tablespoon ground coriander
1 teaspoon paprika

For the salsa salad
1 large boiled mealie
1 red onion
400g ripe tomatoes
½ cup fresh coriander leaves
2 fresh or pickled jalapeno peppers
2 tablespoons lime juice
2 tablespoons crumbled feta cheese
We begin with the chilli con carne. Chop the bacon and lightly sweat it in a large frying pan. As soon as most of the fat is rendered, remove and retain the cooked bacon. Add a little oil to the bacon fat and fry the sliced onion, de-seeded chillies and the peeled, minced garlic on medium heat, moving them all the time to ensure even frying and prevent burning.
When the onions are soft and translucent, add the minced topside beef, breaking it up by hand as you do so. Mix this well with the other ingredients in the pan and, stirring from time to time, allow the meat to brown all over. Keep a vigilant eye on proceedings and avoid burning or adhesions. Remove from the heat and, with care, drain off and discard most of the oil. Add the can of chopped tomatoes, the tomato concentrate, the cooked bacon bits and the stock.
This can either be chicken (unusual but tasty) or vegetable, and can be made from fresh ingredients or the best quality cubes. Return to the hob and stir well. Add the drained white beans, cumin, coriander and paprika. Stir. Leave this fragrant blend of salivation-inducing aromas to simmer for 30 minutes, stirring from time to time. Season with salt and black pepper just before serving with rice or mashed potatoes.
Now for the salsa. Peel and chop the red onion. Cook the mealie in lightly salted boiling water until done. Cool under a cold tap and cut the pips off the cob. Finely chop the tomatoes. Mince the jalapeños, which are much milder than they look. Break off the coriander leaves from the bunch and rinse to remove all traces of Mother Earth. Tear each leaf into pieces by hand.
Fussy, I grant you, but it releases more flavour. Combine the coriander leaves, tomatoes, red onion, jalapeños and mealie pips. Squeeze the limes (or lemons as a substitute) and pour two tablespoons of the juice over the salsa. Stir. Sprinkle the crumbled feta on top, and this delicious salsa salad is ready to go.