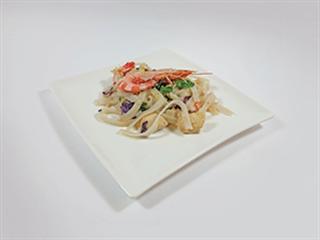 If you are using Thai rice noodles the preparation is a little different from standard pasta. Pour freshly boiled but not boiling water over the noodles in a bowl and let them stand for 25 minutes until tender. When ready, drain and reserve after stirring in a teaspoon or two of canola oil to prevent them sticking together. Of course, if you are using fettucine, follow the standard pasta cooking method for the time indicated on the packaging.
Prawn time. And the big question for many diners is whether to serve the crustaceans with or without the shells. The decision is yours. Just don't forget to remove the colon from each specimen. Do this by cutting right through the shell along the full length of the tail to reveal the colon which must be discarded. Chop the spring onions, peel and mince the garlic and squeeze the fresh limes.
Lemons make an adequate but imperfect substitute if limes are hard to find. Chop the chilli, remembering that pips in will create an oral veld fire while pips out provide a pleasing tingle to the lips. Chop the red cabbage. Select a small saucepan and within it combine the lime juice, fish sauce, jaggery (or brown sugar or honey) and the chopped green chilli. Bring this up to a low heat and let it simmer briefly. Reserve.
Choose a large heavy-based frying pan and pour in the remainder of the canola oil. Bring this up to medium heat and briefly fry the minced garlic and the chopped spring onions. Add the cleaned prawns. Let these fry for 45 seconds a side, turning them once. Remove the prawns and reserved them under cover for later in the proceedings. Add the thin slices of chicken breast and cook until they are done. Break the eggs into the pan, stir well and as they begin to set, scramble them with a fork until almost done.
At this point, add the cabbage and continue to cook over a low to medium heat until the cabbge softens. Return the lightly fried prawns to the pan and stir well to distribute the ingredients, but gently so as not to break up the fragile prawns.
Add the drained noodles or fettucine to the pan, along with the sauce. Stir. When everything is at the same temperature, serve at once on warmed plates. Garnish each serving with a generous sprinkling of chopped peanuts plus chopped or hand-torn coriander leaves. A wedge of fresh lime per diner allows each person to rev up the flavour as they wish.
Enjoy! It's one heck of a good meal.
Contact David Basckin at [email protected] with 'Real cooking' in the subject line.