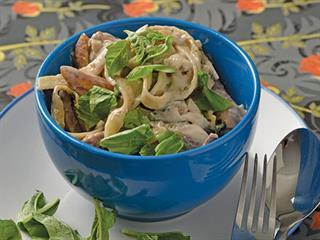 To make linguini with basil, blue cheese and chicken for four, you will need:
500g linguini
4 chicken breasts
2 medium onions
A cupful of loosely packed fresh basil leaves
2 cloves of garlic
250ml cream
250g soft blue cheese
100ml sweet white wine
Extra virgin olive oil on demand
Freshly ground black pepper and salt on demand
We begin with some cheese theory. The big deals here are 'soft' and 'blue'. You can use the blue or veined cheese of your choice, ranging from the most pungent gorgonzola to something mild from the Cape winelands. If you select gorgonzola – and I salute the bravery of your choice – consider adding 60ml Madeira or Old Brown sherry to the mix.
Next, choose a 4l saucepan, or better, a dedicated pasta pot. Fill it with lightly salted water and bring this to a rolling boil. Have this standing by so that you can cook the pasta at exactly the right moment.Peel and thinly slice the onions, and crush, peel and mince the garlic. Check the fresh basil for unwanted nunus and lightly rinse the leaves before chopping them finely.
Remove the bones and skin from the chicken breasts, then section them into strips 10mm wide. Try to keep these standard to ensure even cooking.
Pour a tablespoon or two of extra virgin olive oil into a heavy-based frying pan and bring this up to medium heat. Tip in the sliced onions and minced garlic, and let them sweat until the onions are soft and translucent. Keep an eye on the proceedings to avoid burning. When done, remove the cooked vegetables with a slotted spoon and reserve under cover for later in the proceedings.
In the same pan with the same oil, swiftly fry the strips of chicken breast, adding a little extra olive oil if necessary. Return the cooked onion and garlic to the pan with the fried chicken and stir well. Pour in the wine (plus the Madeira or Old Brown
if required), add the chopped basil and let the contents bubble away until the liquid is reduced by half. Lower the heat, then slowly pour in the cream a little at a time. Stir madly, then crumble in the blue cheese of your choice.
Stir like hell to encourage the cheese to melt and evenly distribute itself throughout the mixture. Season to taste – the black pepper may be all you require. Remove from the hob and cover; rev up the pasta boiling pot and cook the linguini for the time suggested on the packet. When done, drain the cooked pasta, stir it into the sauce and serve at once. This fragrant, highly flavoured meal demands a wine with a strong personality like a Bukettraube or Gewürztraminer served very cold.
Enjoy it!