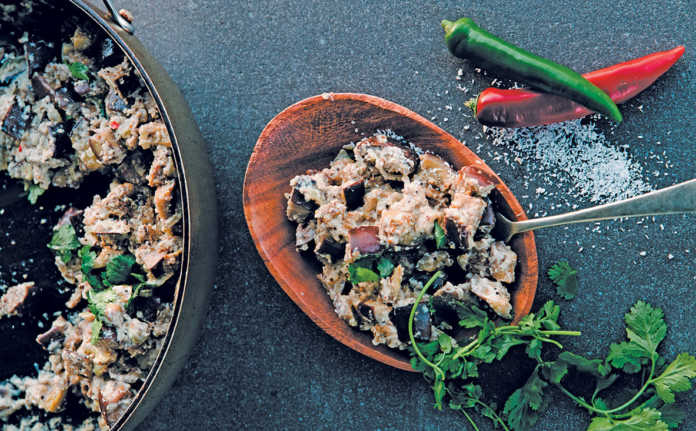 To make an Indian brinjal salad for four, you will need:
4 medium brinjals
1 large onion
2 large chillies
220ml plain white yoghurt
1 tablespoon of coriander seeds (dhania)
4 sprigs of fresh dhania
1 teaspoon mustard seeds
4 tablespoons of desiccated or grated coconut
Sunflower or canola oil on demand
8-12 freshly picked curry leaves
Salt on demand
Optional crème fraîche or fresh cream
Brinjals have a latent, bitter taste. Deal with this by dicing them into 12mm cubes. Arrange these on a work surface and salt them generously.
Allow to stand for 10 minutes, then rinse them thoroughly in fresh, cold water. Drain, pat dry with a paper towel, and reserve.
Toast the coriander seeds in a dry frying pan over medium heat for a few minutes, allowing them to darken a little.
Remove the seeds from the heat and reduce them to powder using a spice grinder or pestle and mortar.
Peel and thinly slice the onion. Depending on your enthusiasm for chilli, partially or completely de-pip the chillies and chop them finely.
Sweat them and the sliced onion in a tablespoon of oil in a frying pan over medium heat until the onions are translucent. Stir to avoid burning.
Let the mixture cool, then pour it, along with the ground coriander seeds and coconut, into the food processor. Rev up the machine until the mixture becomes a smooth, lump-free paste. If it's too thick, add a little water.
Wash and dry the frying pan. Add two tablespoons of oil, the washed curry leaves and the mustard seeds. Bring this up to medium heat. As soon as the seeds begin to burst, add the cubed brinjals.
Stir-fry this fragrant mixture until the brinjals are soft and darkened.
Pour the reserved onion/chilli mixture into the frying pan and stir it into the brinjal mix at a low simmer until the brinjal is reduced to a thick mash. Just before serving, feel free to stir in a couple of tablespoons of crème fraîche or plain cream.
Garnish with fresh dhania leaves and serve along with your favourite curry or other main dish.
David Basckin is a freelance journalist and videographer.