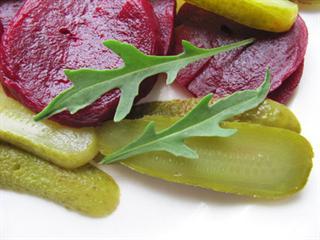 To create a batch of pickled cucumbers you will need:
500g fresh cucumbers
650ml brown vinegar
2 cloves
1 teaspoon black peppercorns
50mm whole cinnamon bark
1 teaspoon mustard seeds
1 whole red chilli
50g salt
Screwtop jars
I have been a pickler since my misspent youth. I began with mushrooms, for reasons that currently escape me. After considerable effort and a two-week waiting period, I opened the pickling bottles to reveal shapes and textures not too different from the standard contents of zoology museums. No one would touch them.
But with these cucumbers you will have a great deal of difficulty keeping your friends away. Nothing is quite as good as the clean crunch of a truly sour pickle. We begin with the soaking process. Select a large ceramic or glass bowl, pour in 650ml water, add 50g salt and make sure it dissolves.
Add the whole cucumbers which you have carefully rinsed in advance. Ensure that all cucumbers are submerged, cover the bowl and let it stand for three days. At this point you would realise that pickling is not a quick process. Three days later, select a very large standard pickling jar. Sterilise this and its lid. Remove the cucumbers from their three-day soak in brine, rinse them and dry with paper towels, then pack them into the large pickling jar.
Now for the pickling agent. In a stainless steel saucepan, pour in the brown vinegar and the spices. Don't crush or macerate the spices as you might for a masala; keep them whole. The same applies to the solo red chilli. Bring the pan to the boil and let it boil vigorously for 10 minutes or so. Taking great care, pour the hot spiced vinegar over the cucumbers in the large pickling jar. Close the lid and store for 24 hours.
After the 24 hours has past, pour the spiced vinegar out of the pickle jar and back into a stainless steel saucepan. Bring to the boil, then pour the pickling liquid back over the cucumbers which are still in the original large jar. Do this process twice, 24 hours apart.
Sterilise the smaller screwtop jars by heating them and their lids in an oven at 110°C for 15 minutes or so.
Allow them to cool and remove the cucumbers from the large jar and pack them carefully into the smaller jars. Pour in the spiced vinegar, topping it up if necessary with plain brown vinegar. Seal the jars and label them with the date. Store the cucumbers in a cupboard for at least a week, noting that the intensity of the flavour increases with time. Once you have opened a jar, keep it in the fridge with its lid on.
Contact David Basckin at [email protected]. Please state 'Real cooking' in the subject line of your email.