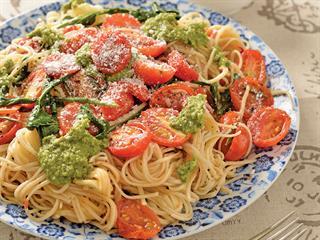 To make this spaghetti dish for four, you will need:
500g spaghetti
10 medium tomatoes
A sprig of fresh rosemary
20ml balsamic vinegar
2 big red chillies
30ml extra virgin olive oil
100g rocket (arugula)
200g Parmesan cheese
And for the quick pesto:
1 cup fresh basil leaves
60g macadamia nuts
4 cloves garlic
140ml extra virgin olive oil
Salt and pepper to taste
Right, we begin with the pesto. Rinse the fresh basil leaves and rinse again. Drop these into the blender with the other ingredients on the list, having first peeled the cloves of garlic and freshly ground the black pepper. Reduce this to a paste, and taste for seasoning. Add extra salt and pepper if needed. Pour the pesto into a suitable container and cover prior to serving.
Next, preheat the oven to 160°C, then cut the tomatoes in half and arrange them cut- side- up on a roasting pan. Drizzle a few drops of balsamic vinegar and a little extra virgin olive oil over each half tomato, then sprinkle them all with freshly ground black pepper and a little salt. Arrange a few fragrant leaves of fresh rosemary over each tomato. Stick the roasting pan and the tomatoes into the oven and let them roast for 60 to 80 minutes.
When the tomatoes have 10 minutes or so to go, bring a large saucepan of lightly salted water to a rolling boil and cook the spaghetti for six minutes or until al dente (cooked but still slightly firm to the bite). Remove the pips from the chillies, chop them finely, then swiftly stir-fry them for 90 seconds in extra virgin olive oil.
Drain the freshly boiled pasta into a large serving dish and mix in the stir-fried chillies plus the 100g of fresh rocket. Stir well and let the heat of the just-boiled spaghetti lightly wilt the fresh rocket. This will allow the rocket to retain its fresh colour.
Pour in the roasted tomatoes and any juices from the roasting pan. Add the freshly sliced or ground Parmesan cheese and lightly mix everything together, taking care not to break up the cooked pasta.
Season to taste or alternatively leave this to each individual diner, ensuring that salt and freshly ground black pepper are available at the table. Finally, the pesto. See this as the ultimate garnish to a superb meal. Make it available in little bowls so that each diner can apply the pesto as he or she sees fit. Leftover pesto will last for a week under refrigeration.
And to drink? There are strong flavours here, demanding a heavy red to do the meal justice.
Shiraz – the more expensive, the better – converts this hearty Italian meal into a Renaissance feast.