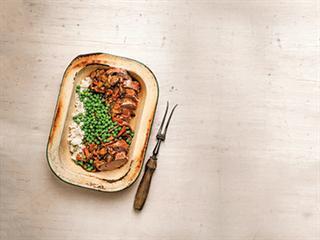 To make a Prince Igor beef fillet for six, you will need:
1,5kg beef fillet, in one piece
400g mushrooms
400g chicken liver pâté
400g bacon
1 onion
2 spring onions
1 large carrot
2 tablespoons tomato concentrate
4 tablespoons butter
500ml beef stock
1 demitasse (small coffee cup) of Old Brown Sherry
1 bay leaf
2 tablespoons Maizena
Sprigs of parsely and thyme
We begin with the fillet. Remove it from the fridge and allow it to reach room temperature. Preheat the oven to 200°C. Season with a little salt and a generous amount of fresh, coarsely-ground black pepper, rubbing it into the meat by hand. Wrap the seasoned fillet in bacon. Next, slice the mushrooms and fry them in a little butter mixed with extra virgin olive oil, until soft. Remove them from the pan and reserve under cover.
Peel and thinly slice the onion, and clean and roughly chop the carrot. Place in the base of a roasting pan and mix in the tomato concentrate, single bay leaf, parsley and thyme. Use fresh herbs if available. Spread this herb and vegetable mixture to form an even layer. Lay the seasoned, bacon-wrapped fillet of beef on top of it. Place it in the oven and let it roast for 30 to 45 minutes, depending on the degree of doneness you desire.
A meat thermometer is a crucial tool in these circumstances, given the cost of the meat and the understandable desire not to overcook it. Rare is achieved at 50°C, medium browny-pink is 60°C and well-done – a bad idea, especially with fillet – is a hellish 70°C. When done to your liking, remove the meat, leaving the base of mixed herbs and vegetables in the roasting pan. Reserve the beef under cover while you complete the dish.
Add the butter, Maizena and stock to the roasting pan and its remaining contents. Stir well to eliminate any Maizena lumps and to distribute the ingredients evenly. Place the roasting pan on the hob and let it bubble way under close observation with an occasional stir until the contents have thickened. Strain the magnificent mixture through a conical sieve, save the liquid and skim off the fat.
Return the liquid to the roasting pan. Add the fried mushrooms and the Old Brown Sherry. Stir, but do not boil. Carve the cooked fillet into medallions of about 10mm thick. Arrange these as if reassembling the uncut fillet in the roasting pan, with a generous layer of chicken liver pâté between the slices. Return the pan to the oven and douse the contents with the gravy. Save the remainder of the gravy to be served in a bowl.
This meal needs nothing more complex than plain boiled rice and lightly steamed green peas.
Raka Quinary, a wooded, blended red of great quality, is the perfect accompaniment to this very special meal.