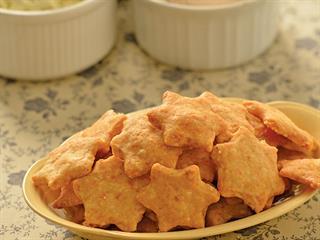 To make approximately 30 Parmesan dip biscuits, you will need:
2oz/57g butter
2oz/57g Parmesan cheese
2oz/57g strong cheddar cheese
2,5oz /71g plain flour, plus one tablespoon semolina
A little salt and freshly ground pepper
A generous pinch of cayenne pepper
The big deal here is measurement accuracy. Charlotte Sutton, this recipe's creator, comes from Norwich in the UK and her units are imperial. She emphasises the amount of experimentation that went into the development of this recipe and she knows that the measurements are crucial. Hence my conversion to metric, rounded off to the nearest whole gram.
The result is an outstanding batch of baked biscuits – or dip chips – each one a complement and a compliment to the quality of your homemade dip.
Let's begin. Grate the cheeses separately before weighing. Combine all the ingredients in a food processor with the seasoning, plus cayenne pepper.
The semolina is both a structural and a mouth-feel component; it adds to the integrity of the baked biscuits and to the joyous experience of eating them.
Once the ingredients are fully combined, chill the dough in the fridge for an hour or so. As all you pastry chefs know, cold dough is the only way to go. When chilled, roll out the dough to a thickness of 3mm. Then, with the biscuit cutter of your choice (stick with the star for 100% authenticity) cut out the raw dip chips. Arrange these on a baking sheet with some space between them.
Preheat the oven to 200°C.
Charlotte uses an Aga, which for city folk means a giant enamelled cast-iron structure filled with real fire.
Aga owners know that running an Aga is a cultural experience of great complexity, integral to rural memory and civilisation. Thanks to Eskom, they're coming back in style in a big way.
Bake for 12 minutes or so, keeping a careful eye on production. When they are light brown, remove from the hot oven and complete the baking in a slow oven at 50°C for 30 minutes, for optimal crispness.
Store in an airtight container, although in most people's experience the entire batch gets consumed in one shot.
Devotees of Ottolenghi will find that these Parmesan stars are the best possible combination with Middle Eastern dips, such as the entire spectrum of hummus chickpea patés mixed with cumin and Israeli za'atar.