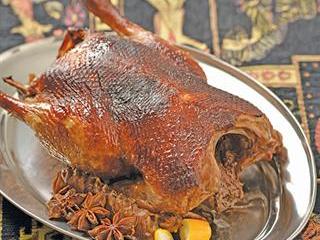 To make a red-cooked duck for two people, you will need:
One standard duck, weighing 2kg to 3 kg
Dark soya sauce on demand
Farmers-WeeklyLight soya sauce on demand
Farmers-Weekly100ml Old Brown Sherry
Farmers-Weekly2 teaspoons brown sugar
Farmers-Weekly50mm fresh root ginger
Farmers-Weekly1 piece dried orange peel
Farmers-Weekly4 spring onions
Farmers-Weekly1 star anise
Guaranteed to be a flavoursome success, this recipe may be slightly complex, but it's worth the time and trouble. Red-cooked duck can be eaten hot with rice, pasta or potato; or cold with a crisp green salad. To make a fail-safe Chinese red-cooked duck, follow these instructions:
Remove the duck from the fridge and let it adjust to room temperature. Mince the raw ginger. Clean up the spring onions by removing the roots, as well as any discoloured leaves. Cut them into sections 24mm in length. Remove the duck's giblets and trim away some of the fat around the cavity. This is optional, unlike the removal of the oil glands in the parson's nose, which is compulsory.
If you can't find them, it simply means that the duck packer got there first. But check anyway.Heat the oven to 200°C. Rub a couple of tablespoons of dark soya sauce over the entire duck and then arrange it on a rack in a roasting pan in the oven, top side up. Let it roast for half an hour, then remove it.
While this is going on, combine the following in a saucepan: ginger, spring onions, star anise, 115ml each of dark and light soya sauce, one litre water, 100ml Old Brown Sherry, the orange peel, and the brown sugar. Note that the pan must be big enough to contain the ingredients plus the duck. Bring to the boil, stirring occasionally. Switch off the heat, fit the lid and let it stand until later in the proceedings.
Remove the partially roasted duck from the oven and place it upside-down in the sauce. Most of the duck should be submerged. Bring the pot back to a rolling boil, then fit the lid and reduce the heat to a gentle simmer, for 30 minutes. Turn the duck over, taking care not to break the skin, and let it simmer for a final 30 minutes.
That's it! Remove it from the sauce, and carve it the way you like. This mouthwatering duck is a real treat.
View our Pinterest Recipe board