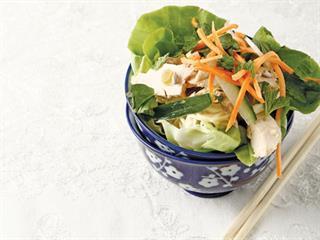 To make Saigon lemon grass, chicken and noodle salad for four, you will need:
4-6 breast fillets of chicken • 300g-400g of rice noodles (or any thin pasta)
4 cloves of garlic • 30ml fish sauce * • 20g brown sugar • 200mm lemon grass stems
1 cos or butter lettuce • 200mm English cucumber • 150mm carrot
20g shelled sunflower seeds • 1/2 cup fresh basil, dhania and mint leaves • 1 lime • Sunflower or canola oil
There are only two non-SA ingredients on this list: fish sauce and lemon grass stems. Fish sauce is made of fermented anchovies, a fact you may not wish to know. Cheap fish sauce is awful; get Woolworths' Fish Sauce and use only the amount the recipe specifies.
This will give a delicious accent to the meal instead of dominating the taste. Lemon grass grows with unsupervised enthusiasm in my Durban garden. Supermarkets sell lemon grass stems in the salad section.
Most of the labour in this meal is preparation. If the breasts are whole, remove and discard skin and bone. Cut the remainder into uniform 5mm-wide strips. Cut the cucumber into thin strips lengthways.
Trim the carrot into matchstick sections. Check the fresh basil, dhania and mint for multi-legged animal life and rinse carefully to remove all traces of Mother Earth. With the flat of a heavy knife, lightly crush the garlic cloves to speed up the peeling process, then finely chop them into very small pieces.
Check the lemon grass for sand, then chop it as finely as the garlic. Squeeze the juice from the lime, remembering that a lime is not a lemon. This matters. Separate the lettuce leaves.
Cook the noodles in boiling water for the time indicated on the packet. Drain and rinse with cold water. Reserve under cover until later.
Pour the sugar, fish sauce, lemon grass and garlic into a bowl with the raw chicken strips. Using your well-washed hands, mix these ingredients together, then let them rest under clingfilm for 20 minutes.
Pour 40ml to 60ml of sunflower or canola oil into a wok or heavy-based, high-sided frying pan. Place over a high flame and heat until the oil starts to smoke. Taking care to avoid splashes of hot oil, add half the chicken strips to the wok and stir-fry for two minutes.
Remove and reserve under cover, then repeat with the rest of the chicken. Arrange whole lettuce leaves in the bowl (one per diner) with a serving of room-temperature cooked noodles. Scatter hand-torn dhania, mint and basil plus the sunflower seeds.
Add the hot, cooked chicken plus raw cucumber and carrots. Drizzle a little lime juice over the meal and serve to roars of acclaim.