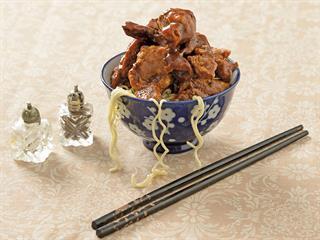 To make roasted pork in a chinese marinade for four puzzled but delighted diners, you will need:
1kg of pork neck (bone-free)

70ml dark soy sauce

70ml rice vinegar

3 cloves garlic

½ teaspoon of five-spice powder

Liquid (not crystallised) honey on demand

2 tablespoons hoisin sauce

2 tablespoons jaggery (palm sugar)

1 teaspoon tomato concentrate

2 teaspoons Old Brown sherry
First a note on Asian ingredients. Dark soy is, wait for it… not light soy. Instead it's a heavier liquid preferred for cooking rather than a condiment. Jaggery is palm sugar. If you can't find this, brown sugar makes an adequate substitute. Hoisin sauce and five-spice powder can be found at Asian speciality supermarkets and in some cases the general supermarket just down your street.
Now for the meat. Ask your butcher for a deboned neck of pork. Don't buy the sliced version; instead, cut the neck into thick strips, say 150mm by 75mm by 40mm. No big deal for the home cook – just remember to make them more or less uniform in shape and size.
Moving on: mixing the marinade. This moistens the pork as well as flavouring it almost right through and moderately changing the colour. If you were to buy bottled industrial-strength char siu sauce it would most likely result in dark red cooked pork. But since we are a proudly independent frontier people, we shall make our own char siu. Finely chop the garlic, then mix all the ingredients in a saucepan, except for the Old Brown sherry and the five-spice powder.
Setting the hob to low, stir well while bringing up the temperature of the ingredients. These must be warm, not boiling. Remove from the hob and stir in the Old Brown sherry and the five-spice powder. Place the carefully cut pieces of pork in a glass or ceramic bowl, then pour the warm marinade over the meat. Fit the lid and stick it in the fridge for eight hours. Give it a stir from time to time during this process.
Showtime, folks. Preheat the oven to 230°C. Cooking is a bit messy but well worth the trouble. Place a roasting pan, partially filled with water, on the lower level of the oven. Above it, fit an oven rack lightly wiped with sunflower oil. Turn the pork one final time in the marinade and arrange the meat on the rack above the roasting pan of water.
Roast for 20 minutes then drop the temperature to 180°C. Drizzle honey over the meat and let the roast continue at the new temperature for the final 12 minutes. Remove, let the meat rest under foil for five minutes, then serve with rice or noodles and an ultra-chilled Windhoek as the final salute to this extraordinary collection of tastes.