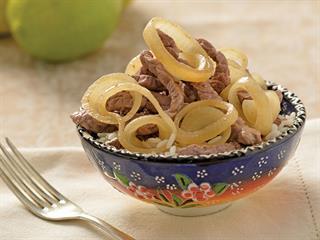 To make this stir fry for four hungry diners, you will need:
800g steak

3 onions

100ml sweet soy sauce

Canola or sunflower oil

on demand

1 lemon

Salt and coarsely ground black pepper

Rice or ultra-thin pasta


The big deal in stir-fry cooking is the preparation of the ingredients and the careful management of time. Stir frying happens at the highest of high heats. Catastrophe, chaos, conflagration – all these are seconds away if your concentration isn't set to maximum.
Ideally, you should buy a wok and use it over a high gas flame. But sadly, as life continually reveals to us (cue violins), the ideal is not always at hand. Since this story assumes you are a brand-new stir fryer, you can achieve a superb one-shot stir fry with a frying pan and an electric hob.
And so it begins. Cut the steak into strips 5mm wide. Discard the fat. Peel and thinly slice the three onions. Now for the mystery ingredient, sweet soy sauce. My local supermarket carries an Indonesian brand of this extraordinary condiment. I have also found Thai and Chinese brands without any trouble.
The next step is the rice or pasta. Feel free to experiment. I have achieved mind-blowing results with glutinous rice, as
used for sushi. This also comes from my local supermarket, and so shouldn't be a big deal to locate. Cooking this rice is no
issue either, even for the first time. Weigh about 75g per diner. Rinse it in cold water a couple of times.
Add a little salt and let it simmer until most of the water is absorbed. Follow the more detailed instructions on the package, since brands differ. What you get is sticky rice with a most welcome and exotic flavour.
Moving on. Sweat the sliced onions in a little oil until soft and translucent. Reserve them under cover and wipe out the frying pan with a paper towel to remove the last fragments of onion.
Pour 75ml of oil into the frying pan and bring this up to a high heat. Add half the quantity of sliced steak and stir fry this for a maximum of two minutes. Remove and reserve under cover. Repeat with the second half. We do this to maintain a high temperature in the pan.
Lower the heat dramatically. Return the cooked steak strips plus the cooked onions. Stir them well together, then
pour in the Indonesian sweet soy sauce. Stir well over a low heat for a few minutes, then serve with the pasta or rice of your choice.
But wait, there's more! Combine half a teaspoon each of salt and coarse black pepper on the side of each diner's plate. Squeeze lemon juice into this to make a paste for dipping.
Not bad for a beginner, hey?