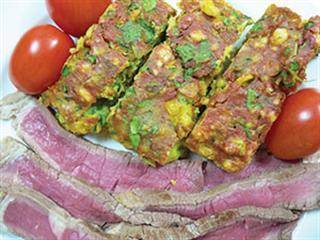 To make a sweetcorn lagaan, you will need:
1 can sweetcorn
3 eggs
½ cup soft butter
2-4 green chillies
2 cups self-raising flour
½ teaspoon salt
¼ teaspoon ground tumeric
¼ teaspoon ground black pepper
1 teaspoon ground cumin (jeera)
Half a bunch or one cup of fresh coriander (dhania)
3- 6 bunches of fresh fenugreek (methi)
1 tablespoon of dried fenugreek (methi)
The big deal here is the fresh green herbs. In Durban, methi and dhania are available everywhere. Both are extremely easy to grow. In the case of methi the sprouts seem to explode out of the ground while you watch. Only mustard seeds grow faster. Wash the green herbs carefully to remove all traces of sand. Tear the coriander leaves off the stems by hand. With the methi, cut off and discard the stems.
Chillies are difficult to rate on appearance alone. Growing your own is the best way to predict the relative degree of heat. For those who become faint and tremble when faced by a chilli or two, note that deseeding the chillies reduces the burn while not totally destroying the culinary effect.
Grind the cumin and black pepper immediately before use. Never buy whole tumeric unless you are a licenced blaster. The last time I tried to grind whole tumeric, the grinder burnt out, the DB box tripped and a considerable area of suburban Durban was briefly plunged into darkness. Combine all the ingredients in a large mixing bowl. If you don't have self-raising flour, make your own by combining 3 cups plain flour with 1½ tablespoons baking powder plus 1 teaspoon salt. Sift and mix well. It's that simple.
Preheat the oven to 180°C. Select a shallow overproof dish and generously grease the interior with butter. Pour in the well-stirred lagaan mixture and bake it until firm. This usually takes 30 minutes or so. A baking needle or stainless steel skewer should come out clean after sticking it into the lagaan.
Remove from the oven and allow to partially cool. Cut the lagaan into squares for serving. This magnificent Durban side dish is good enough to eat on its own. The food is sufficiently resilient to withstand reheating without much loss of texture or flavour. Diners keen on a different sort of breakfast will enjoy this sweetcorn lagaan with a couple of fried eggs.