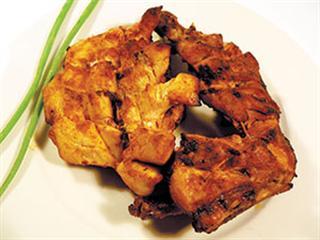 To feed four on chicken tikka, you will need:
One standard supermarket fowl
500ml plain yoghurt
2 cloves garlic
2 tablespoons freshly ground cumin seeds (jeera)
1 tablespoon ground paprika
2 to 4 red chillies
50mm fresh root ginger
1 teaspoon salt
1 teaspoon freshly ground black pepper
Juice of 2 lemons
50mm cinnamon stick
First, butcher the fowl into quarters. I usually do this in four neat blows, with a Chinese cleaver – works like a dream every time. Next, cut deep grooves into the chicken pieces at 20mm intervals, right down to the bone. Take a large bowl and mix together the yoghurt and lemon juice. Using an electric spice grinder, reduce the cumin seeds and cinnamon stick to fine powder. Add this spice mixture plus the salt and pepper to the contents of the bowl.
In a small food processor, reduce the chillies, ginger and garlic to a smooth paste. Add this to the bowl and stir well to evenly distribute the ingredients. As a final touch, toss in the red paprika and stir. A cautionary note on chillies – enthusiasm for this magnificent ingredient varies from culture to culture and person to person. Check first with your guests. If they lack the asbestos mouths of your typical KZN diner, reduce the chilli load from four to two and remove the pips prior to use. This procedure dramatically cuts down on chilli burn.
Right. What we've got here is a simple marinade which will double as a basting sauce later in the proceedings. Now, put the chicken quarters in the marinade and let them soak for an hour or two under clingwrap in the fridge. Prepare the braai and get the fire right. This means no flames, and for those experts reading this, my apologies for stating the obvious. Put the marinated chicken pieces on the grill and let them braai, turning them every two minutes.
This is labour-intensive, but important. And since a braai isn't a standard piece of equipment, the duration of cooking will vary from braai to braai. On mine, it takes about 10 minutes. Check by inserting a skewer into the thickest part of the meat and examine the fluids that emerge. Red is bad, clear is good. If you like, spoon a bit of the marinade over the braaiing fowl.
Serve immediately with the side dish of your choice. I usually break with the Indian tradition and offer my guests a large baked potato, cut down the middle and anointed with fresh plain yoghurt. This nicely offsets the power of the chillies and the delicious, though sometimes overwhelming flavours of the marinade.
And to drink? Is this a serious question? Windhoek Lager! Straight from the bottle! Ice cold!