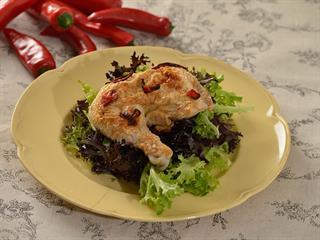 To make hellfire chicken for four, you will need:
1 standard 2kg supermarket chicken

Extra virgin olive oil from the Western Cape

3 lemons
For the red chilli sauce
14 large red chillies

5ml sesame oil

3 star anise

25mm fresh root ginger

25mm cinnamon bark

5g freshly ground black pepper

450ml sunflower or canola oil
We begin with the red chilli sauce. This can be used as an all-purpose, high-octane condiment and will keep for two weeks in the fridge. Since the various flavours need to infuse the oil, it's best to make this a day or two before use. The big deal here are the chillies. Fresh chillies have their own special qualities, while dried chillies produce a redder sauce.
Remove the pips from the fresh chillies for a milder sauce. Chilli addicts should leave the pips in. Measure the sesame oil carefully as this is a very strong flavour that is easy to increase but impossible to remove if you go over the top. Reduce the cinnamon bark and star anise to dust in a spice grinder. Peel the ginger and chop it finely.
Chop the chillies with or without the pips depending on your decision regarding oral veld fires.
Pour the 450ml oil into a saucepan, add all the other ingredients and bring this up to a mild simmer for 20 minutes. Fit the lid, kill the heat and let it sit for the rest of the day. When done, strain into a clean bottle with a good lid and chill in the fridge.
Chicken time. Cut the fowl into four equal pieces, excluding the back. Keep this in the freezer for chicken stock. Paint the chicken with the red chilli sauce using a pastry brush, then reserve under cover for five hours. Select a cast-iron frying pan and bring this up to high heat on the hob. Pour in a tablespoon of olive oil and add the chicken pieces skin side down. Salt lightly and cook for eight minutes a side, turning once.
Squeeze the juice of two lemons over the chicken, then stick the frying pan and contents into the oven preheated to 220°C. Let the chicken roast for 25 minutes, then squeeze the juice of the remaining lemon over the meal. Let it settle down out of the oven for 10 minutes, then serve with rice or buttery mashed potato plus a crisp green salad. A hell of a meal.