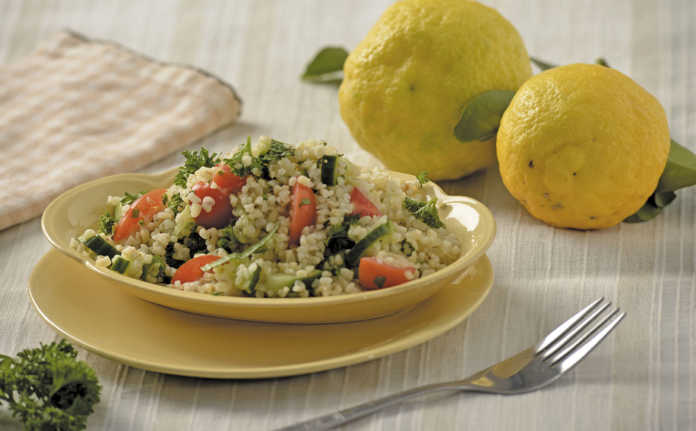 To feed 2 to 4 vegans on a powerful tabbouleh salad, you will need:
230g bulgur wheat
30ml-50ml lemon juice
100ml-150ml extra virgin olive oil
1 cup each of diced tomato and English cucumber
8 spring onions
3 cloves garlic
1 cup mint
3 cups parsley
Salt on demand
¼ teaspoon ground cumin (jeera)
Pinch of ground allspice
½ teaspoon coarsely ground black pepper
For an opportunistic omnivore like myself who enjoys a happy relationship with meat, eggs and dairy, a close encounter with the dietary regime known as veganism has been a somewhat startling experience.
It has two basic pillars: the first is the belief that the cruelty inflicted on animals through preparing and slaughtering them – especially in today's 'factory-farming' set-up – is unacceptable. The second is the belief that animal-based products are not good for you.
Certainly, it has to be acknowledged that few vegans are fat. President Bill Clinton has been on a vegan diet for years and a quick Google image search will show his lean figure.
Tabbouleh is more than just a salad. Instead, it is almost a cuisine in its own right, with an open-ended arrangement of alternative components and seasonings. This one is kind of, sort of, almost a traditional Lebanese recipe. Like all good salads, the big deal is freshness.
If the contents come from your kitchen garden, begin by removing nunus and other life forms. Bulgur wheat can be found in specialist delicatessens and health shops. Measure the quantity required and add it to a saucepan containing half a litre of salted water already at a rolling boil.
Fit the pot lid, drop the heat to low and allow it to cook for 10 minutes or so. Test by taste; when satisfactorily tender, drain, then chill under a cold tap. Drain again and pour the cool, cooked bulgur wheat into a mixing bowl.
Select a second bowl and within it combine three-quarters of a teaspoon of salt, the black pepper, the cumin, lemon juice and a delicate pinch of allspice. Vigorously stir in the extra virgin olive oil to create a partial or actual emulsion, then pour this over the bulgur wheat.
Finely chop the spring onions, garlic, mint and parsley, then add these to the mix with the diced cucumber and tomato. Stir it all together, then taste to finalise the seasoning. A little extra olive oil gives this flavoursome combo the finishing touch.
I am happy to report that the meal was a great success. Coffee – Ethiopian, dark roast, made in a Moka pot – was served black. A teaspoon of Klippies added its own special magic, not to mention a welcome hint of sin.
David Basckin is a freelance journalist and videographer.