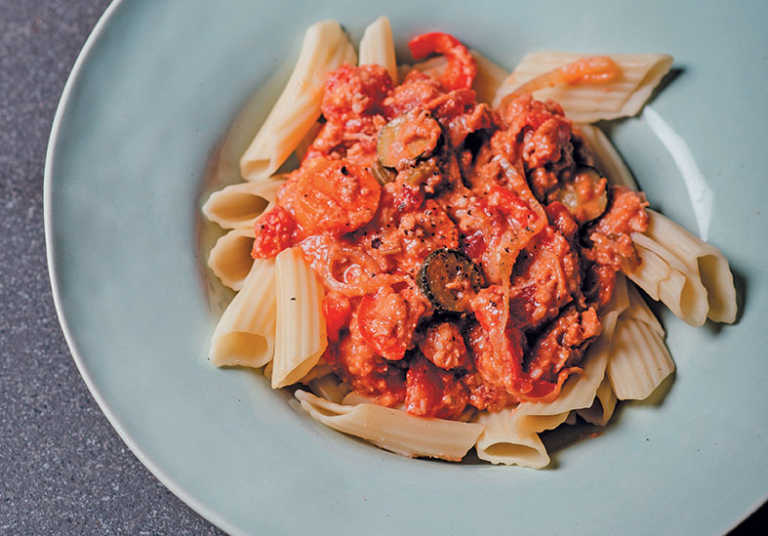 To make this powerfully flavoured chicken ragu, you will need:
60g of streaky bacon
500g of minced chicken
45mℓ of extra virgin olive oil
2 tablespoons butter9
1 red sweet pepper
1 generous onion
3 courgettes
2 sticks of celery
2 young carrots
3 cloves of garlic
¼ teaspoon freshly ground black pepper
½ teaspoon coarse salt
1 to 2 cans of tomatoes (approx 400g to 800g)
1 tablespoon of brown sugar
125mℓ of dry red wine500g of penne pasta
1. Select a large, heavy-bottomed frying pan, and begin preparing the ingredients by peeling and thinly slicing the large onion. Next, crush, peel and finely chop the garlic, and cut the young carrots and courgettes into coins or medallions. Cut off the top of the sweet pepper, discard the seeds and cut the remainder into strips, before cutting the bacon into small sections.
2. On medium to high heat, cook the streaky bacon for three minutes and set aside. Leaving the bacon fat in the pan, pour in the olive oil and add the garlic, onion, celery, carrots, courgettes and sweet pepper. Stir from time to time and allow to fry for eight minutes until mostly soft, and the onions are translucent. Transfer the contents to a bowl.
3. Add the minced chicken to the frying pan with its residual bacon fat and olive oil and mash with a fork. Stir for 10 minutes until cooked right through, then add the cooked bacon and vegetables. Mix, and season with salt and pepper.
4. Pour in the red wine and stir until most of it has evaporated. Lower the heat to medium-low and add the tomatoes with their juice, as well as the brown sugar. Mash them to a pulp in the pan and let them simmer for 10 minutes, before adding the butter. Allow the butter to melt.
5. Cook the pasta and serve the chicken ragu on the pasta. Place a tablespoon of cream cheese, or ricotta, in the middle of each serving for that extra tang. Then sprinkle grated strong cheddar, or parmesan, over the meal and serve.
David Basckin is a freelance journalist and videographer.