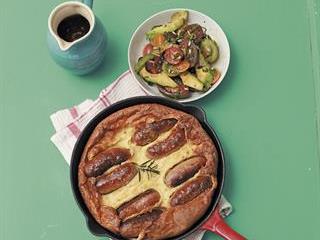 To make Toad in the Hole for four diners, you will need: For the main meal:
8 pork sausages
15ml extra virgin olive oil
2 eggs plus 1 additional yolk
130g white flour
150ml milk
150ml water
¼ teaspoon salt
¼ teaspoon freshly
ground black pepper
For the sauce:
30ml canola oil
30g butter
1 or 2 onions
1 tablespoon white flour
1 teaspoon Coleman's mustard powder
400ml vegetable stock
Worcestershire sauce, salt and pepper to taste
The big deal here is the batter for the Yorkshire pudding. Ideally, you should make it 45 minutes or so before cooking it. Pour the eggs, flour, milk, water, salt and pepper into a food processor and 'pulse' until the mixture is smooth. Decant into a large bowl, cover with clingwrap, and leave to stand.
Next, select an oven-proof dish. Preheat the oven to 220°C (yes, that's right). When it has reached the right temperature, pour the olive oil into the dish and put it in the oven. After 15 minutes, carefully place the sausages in the hot oil and let them sizzle in the closed oven for three minutes. Turn them over for a second three-minute sizzle.
Remove the very hot dish from the oven, arrange the sausages so they have more or less equal spaces between them, pour in the batter and return the dish to the oven. Cook for 17 to 20 minutes, with careful observation from 17 minutes onward.
The batter must rise and change from yellow to brown. If needed, give extra time to the process until the risen brown finish is achieved.
Onion sauce
For some fans, toad in the hole is like eating oysters – best served without additions. Others insist on adding onion sauce. Believe me, this may just be the way to go. Get the sauce out of a labour-saving packet.
Alternatively, make it yourself, like this:
Heat the canola oil and the butter, then add the onions, coarsely chopped. Stir-fry for 15 to 20 minutes, then stir in the flour, followed by the mustard powder.
Slowly add the vegetable stock, and finish off with a dash or two of Worcestershire sauce and salt and pepper to taste. When the sauce is as thick as you like it, remove it from the heat and decant it into a gravy server or jug.
Serve two sausages plus a section of the Yorkshire pudding per lucky diner. A salad of sliced tomatoes, sliced avocado, a tablespoon or two of finely chopped spring onions and a generous sprinkling of lightly toasted sunflower seeds, all under a light drizzle of balsamic vinegar and olive oil, makes a great accompaniment to the entire gastronomic event.
David Basckin is a freelance journalist and videographer.