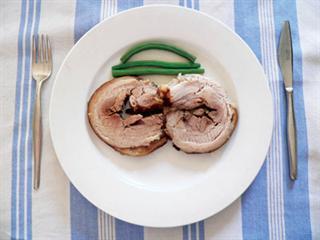 To make an ultra slow-cooked pork belly roast for four diners you will need:
For the marinade:
180ml Old Brown sherry
200ml light soya sauce
50mll balsamic vinegar
100mm fresh root ginger
1 tablespoon
palm sugar
10 cloves garlic
For the roast:
150ml Old Brown sherry
1 stick cinnamon
3 whole star anise
20 cloves garlic (not a misprint!)
4 spring onions
A couple of sprigs
fresh coriander (dhania)
Fresh green herbs for garnish


Begin by peeling the fresh ginger, then cutting it into 5mm-thick slices. Lightly crush the fresh garlic, which will make it easy to peel by hand. Cut the garlic cloves into slivers. Measure the liquids accurately, then combine all the ingredients listed for the marinade in a mixing bowl. While palm sugar is unique, standard brown sugar is a good substitute. Unroll the pork belly and arrange it on a flat dish. Pour in the marinade so that the pork is covered. Cover the dish and stick it in the fridge for 24 hours, turning the meat four or five times during the period.
It's the next day and we're still preparing the meal…
Remove the pork belly from the marinade and retie it in a tight roll with fresh string. Strain the marinade, saving the liquid and the ginger chunks. Dump the used garlic. Bring a large 2l saucepan of water to the boil. Add the roll of pork, 150ml Old Brown sherry, three star anise and the stick of cinnamon and boil for 30 minutes. Skim the scum from time to time.
Remove the pork from the saucepan and place it in a large ovenproof dish. Pour in the contents of the saucepan (water, sherry, anise, cinnamon) plus the marinade and its ginger. Fit the lid and slowly roast at 150°C for the first hour, then add 20 whole, peeled cloves of fresh garlic. Continue roasting for an additional two hours or until it is so tender that a fork encounters no palpable resistance when stuck into the meat.
Remove from the roasting dish and carve the meat into generous slices. The extreme tenderness of the meat makes elegant, thin slices impossible, but hey! Who needs elegance when no less than 30 cloves of garlic have added their own special magic to the meal? Serve this fragrant and tender roast with the vegetables of your choice. A few sections of spring onion plus a couple of well-washed coriander leaves as garnish add to the effect.
Contact David Basckin at [email protected]. Please state 'Real cooking' in the subject line of your email.