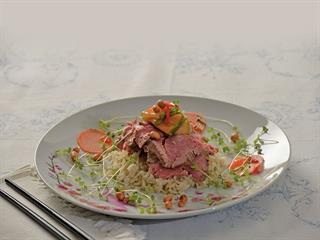 To make Vietnamese fillet of beef plus a revolutionary cucumber salad for four, you will need:
1kg beef fillet in one giant piece

1 large red chilli

3 limes

110ml fish sauce

3 cloves garlic

30g brown sugar

1 bunch mint

1 English cucumber

12 radishes

6 large spring onions

100g roasted peanuts

2 cups basmati rice
First, the meat: buy a whole fillet and cut a single 1kg piece from the middle to ensure a uniform width. Freeze the remainder for another meal, another day. Collect the zest from the three limes, noting that a lime is a lime and never a lemon. Squeeze the juice from all three limes. Crush, peel and mince the garlic. Finely slice the white bulbs of the spring onions and chop the green tops. Chop the chilli and discard the pips.
Measuring carefully (too much fish sauce will spoil the recipe), combine the fish sauce, brown sugar, lime zest, lime juice, pip-free chilli and minced garlic in a bowl to make the marinade. Pour half of this over the fillet and let it stand under cover on the counter for 40 minutes, turning the meat at half time.
Finely slice the English cucumber, the radishes and the white bulbs of the spring onions. Place the sections in a bowl and add between 20ml and 40ml of the marinade. Toss the salad, ensuring that the marinade makes contact with all the ingredients.
Basmati is not the usual rice for this meal but its fragrance and singular flavour hits every spot on the palate.
Wash the rice in two changes of cold water. Drain, then add three cups of cold water plus a little salt. Bring this to a rolling boil, then fit the lid, cut the heat to low and cook for 15 minutes.
Select a heavy-based saucepan or frying pan large enough for the fillet. Bring this up to high heat and brown the fillet all over in a little vegetable oil. Drop the heat marginally and let the meat cook for six minutes turning it once. Fit the lid, remove the vessel from the hob and let it stand for three minutes.
Remove the meat, arrange it on a carving surface and cover it with foil for 10 minutes. Both these standing times allow the temperature to become even throughout the meat without cooking it further. Rare is good, rare is required. Don't argue with the chef.
Plating time. Spread a delicate layer of rice on the plate, then arrange thin slices of fillet over the rice. Add a layer of the salad, scatter a few fresh, hand-torn mint leaves, some chopped onion greens, a tablespoon of coarsely crushed roasted peanuts and a light splash of the marinade.
And to drink? Ice-cold lager is my recommendation. Bon appetit!
David Basckin is a freelance journalist and videographer.