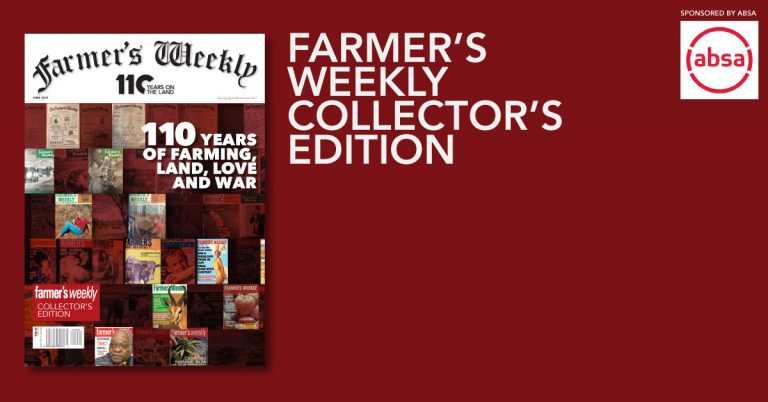 I know ignorance is a poor and cowardly excuse. However, as someone born in the early 1980s, I was oblivious when growing up of the terrible and unfair reality that most South Africans were subjected to at the time.
I first became aware of the political situation in South Africa when I was in my first years of
primary school, during the build-up to the democratic elections in 1994.
At my small, white, Afrikaans platteland primary school, a fence was erected around the school grounds, and we practised emergency evacuation drills in case things turned violent in the days just before and after the elections.
Of course, nothing happened. In fact, those first few years after 1994 were happy ones,
full of hope that South Africa would become a better place for everyone.
Over the past few months, I have read through hundreds of copies of Farmer's Weekly to compile our 110th anniversary issue. As you can imagine, reading about farming in South Africa over the past 110 years can be, at times, uncomfortable and deeply unsettling.
As far back as 1911, the seeds of ideas were sown that would later find expression in laws
such the Natives Land Act of 1913, which began the official separation of white and black people in South Africa, and later the Bantu Education Act of 1953, which officially brought segregation to education.
Reading the earliest editions of Farmer's Weekly, when derogatory terms for black people were used in the publication with casual disregard, it's hard not to think the worst of those who were so blatant in their disdain for other races.
It did make me think a lot, however, about how future generations will judge us 100 years from now. Over just the past few hundred years, humanity has committed many unthinkable cruelties, of which apartheid is but one. And it is perhaps arrogant of us to imagine that the worst humans are capable of has already been done.
How absurd and barbaric it may seem to a person born in the 22nd century that, 100 years prior, the world was throwing away millions of tons of food every year while many people lived in squalor and hunger?
What will they think about the way we live now, knowingly consuming more resources than the earth is able to replenish? Will they judge us for wasting and polluting our fresh water resources while there was still some left?
Reforms that have happened, albeit slowly, since the 19th century to recognise the rights and equality of all races and cultures will hopefully be a proud legacy of our time on earth, but what will the rest of our legacy look like?
On a purely technical level, the progress in farming since the start of the previous century is truly impressive. The speed and efficiency with which we are able to grow food today have made humans more resilient in the face of catastrophic natural disasters than our ancestors would ever have thought possible.
But what has been the cost of this? Given the radical advances we have seen in information and data gathering and access, these questions don't have to be rhetorical. We have the tools we need to be a generation capable of learning from our mistakes.
Let's not be ignorant!
The Farmer's Weekly Collector's Edition is available at selected retailers for R45,00.
View the list of retail stores.
We want to hear your views on the Collector's Edition. Be part of the conversation on Twitter by using #110YearsontheLand.