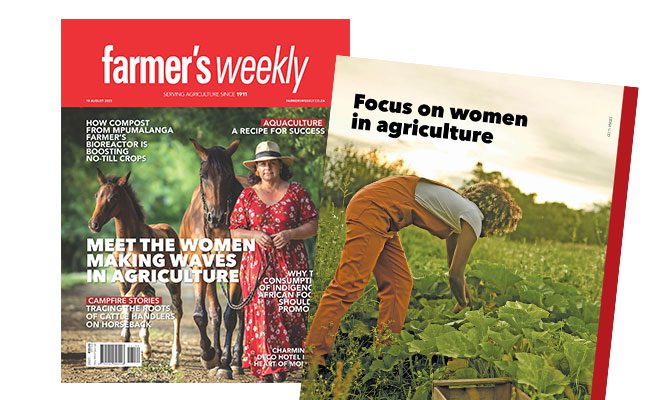 Like many ostrich farmers, my grandfather never quite recovered from this setback. He spent 12 to 14 hours a day running the farm and the farming business. He would leave the house before sunrise and return after sunset, only coming back to the homestead for lunch.
Despite the effort it took, he remained passionate about farming until he passed away.
But someone who never received much recognition for her role on the farm was my grandmother. Before moving to the farm with my grandfather, my ouma had raised five children.
She had been a housewife for the vast majority of her married life, like many other women of her generation. When my grandparents moved to the farm from Benoni in Gauteng, the adjustment was harder for her than it was for grandfather. He was pursuing his passion, but she was leaving behind her children and grandchildren.
On the farm, she resumed her role as the dutiful housewife, cooking and cleaning and keeping house. After some time, she began raising chickens for household egg consumption. While she was not an active part of the farming operation, her never-ending support of my grandfather was what kept the farm ticking over.
The so-called mundane tasks she performed were essential for the well-being of my grandfather and the homestead, and without her active involvement on the farm, my grandfather's dream of farming would have been over very quickly.
In this week's issue of Farmer's Weekly (18 August 2023), we celebrate women in agriculture. Farming is still seen as a man's job, but as the women we document in this issue show, this perception is outdated and inaccurate. Almost half of the world's agricultural workforce consists of women, and they continue to play a significant role in primary and secondary agriculture, particularly in developing countries.
While we recognise those women who have made great strides in agriculture in this issue, we also recognise that the farmer's wife, like my grandmother, often does not get the praise she deserves for the work she does in maintaining the homestead. To these women, we say thank you for your tireless work on the farm. Without you, there would be many fewer farmers in operation.
To women farmers, we also say thank you. Thank you for your contribution to household and national food security. We are aware of the barriers to entry, and the fight against the prevailing perception of women in agriculture.
Our promise to you is that we will continue to endeavour to change this perception. In this issue, we have profiled some of the remarkable women in agriculture, but there are many more who also deserve recognition.
If there is a woman that you are aware of that you believe deserves this recognition, please get in touch with us via email or on social media. The first step to changing the narrative that farming is a man's job is to highlight the women who already operate successfully in the sector.
Email: [email protected]