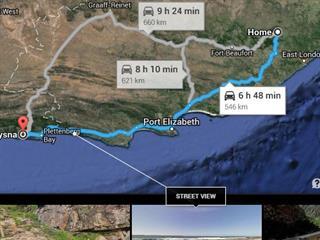 Google Earth is an excellent mapping tool that provides high-resolution graphics, satellite images, maps and, in some areas, street views. It can be downloaded for free at earth.google.com and free apps are also available for all the mobile phone platforms.
Google Earth Pro, the more advanced version, has an annual licence fee of $399 (about R5 000) and additional features. These include allowing you to create custom 3D maps and routes for events such as bike rides or hiking trails. Google Earth Pro can be tested for free for seven days. Go to bit.ly/Gmaps1 for step-by-step instructions on how to use Google Earth to draw a farm map.
Amazing maps
Many people simply use Google Maps. This is an Internet application, while Google Earth is a standalone product. It is downloaded first and then connects to the Internet. Initially, Google Earth and Google Maps were very different products, but over the past few years they have become much more similar. This is largely due to the addition of new features to Google Maps that were available only in Google Earth. The main difference between Google Earth and Google Maps is that the latter is based on a 2D model, while Google Earth uses a 3D model.
Planning journeys
Google Maps is a remarkable tool for working out travelling distances. The accompanying photograph shows how a route can be plotted on Google Maps, in this case Stutterheim to Knysna. The maps shows three alternative routes with distances and approximate driving times.You will also see that street views are available at most locations.