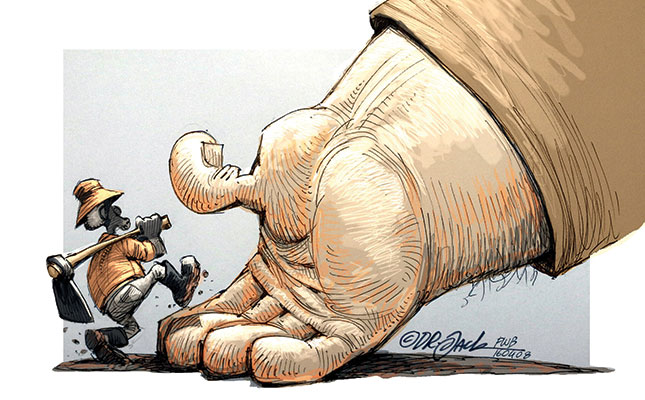 South African society is desperately unequal, as is the country's farming sector. But this is not only government's problem.
Commercial and mega farmers have a responsibility to invest in emerging farmers. The question is: how do we increase the number of successful emerging farmers while growing agricultural production?
Land restitution has failed, with more than 90% of all land returned to beneficiaries ending up unproductive. Institutions set up to protect the interests of communities have been liquidated and grants frittered away.
READ How to create successful, commercial black farmers
The system has also left the commercial farming community in a state of uncertainty. This group of farmers realises it has to give something, but also wants to be left alone to get on with its work.
This does not help the emerging farmer.
Various think-tanks continue to tinker with ways to make failed community projects viable, while government committees try to estimate the recapitalisation costs.
Recapitalising these failed projects without appropriate support from commercial farmers is a further waste of financial resources.
Finally, government's extension services are under-resourced, unskilled, inexperienced and out of touch.
Many people who feel that restitution is due to them are not really interested in becoming farmers.
Land is only a factor of production; possessing land does not guarantee wealth. Handing farmland to someone ill-equipped to farm is a recipe for disaster.
Land reform projects often involve communities –not single farmers and their families. Just how a large community could effectively manage an operation as complex as a big commercial farm remains unanswered in both theory and practice, and it would be difficult for commercial farmers to get involved in such a scenario.
READ 'Land reform: SA needs to learn from other African examples'
Leadership of such projects is almost always problematic, often becoming the responsibility of a traditional leader lacking the necessary knowledge or experience. Yet external leadership by consultants and government officials is no better.
And then there are organisations such as the African Farmers' Association of South Africa (Afasa), the National Emergent Red Meat Producers' Organisation (Nerpo) and the National African Farmers' Union (Nafu), all of which supposedly have the same objective.
The reality of farming in South Africa
As in the rest of the world, farms in South Africa are becoming larger and employing fewer workers.
Yet, those fewer people are doing more. The number of farmers in South Africa has been dropping by approximately 30% every decade, a decrease that has nothing to do with politics and everything to do with the realities of modern farming.
Although farming is a relatively small business sector, given the number of people employed, it is highly capital-intensive. On top of this, return on investment is extremely low.
For an emerging farmer, this is like entering a nightmare of intense competition and high capital requirements, and government has proved itself unable to provide suitable assistance with training, mentoring and access to finance.
The view that emerging farmers face unfair competition from established farmers is flawed; all SA farmers face unfair competition from the international market. There is, however, light at the end of the tunnel: by 2050 the world will need to produce twice as much food as it does presently, and markets for farmers will grow.
The emerging farmer's plight
The SA agricultural economy and land tenure system – or lack thereof – has little or no room for the emerging farmer.
Ernest Setlogelo, a young, bright and energetic emerging farmer who completed a three-month internship at Sernick, was allocated 2 000ha of some of the best grazing land in the Free State.
Since he does not own the land, however, he has no access to finance for infrastructure or breeding stock. The result is a stranded farmer and an unproductive farm.
While much has been done since 1994 to empower emerging farmers, more is needed, especially in terms of finance, skills, organisation, access to markets and land tenure.
Access to finance
Applying for agricultural finance in a commercial bank is a complex procedure, and a bank's requirements can often be difficult for emerging farmers to fully understand.
Government financial support is dismal; the Land Bank is more likely to support an established farmer than an emerging farmer, which is understandable. Other support structures, such as MAFISA (the Micro Agricultural Financial Institution of South Africa) and CASP (The Comprehensive Agricultural Support Programme) funds, have no footprint to speak of, so it is difficult to assess their effectiveness.
The Land Bank's mandate should thus be reconsidered to occupy its original position as a one-stop shop for all financial matters in supporting emerging farmers.
Skills development
Skills development suffers due to poor quality public extension services. By providing training in the classroom instead of in the field, training programmes miss the mark.
While government mentorship programmes are well- intentioned and have the capacity to develop agriculture skills, they are mostly limited to teaching production skills – yet emerging farmers need management skills.
The public extension sector on which emerging farmers rely is weak, whereas commercial farmers secure access to quality private extension services provided by agribusinesses. A balanced mix of extension and mentorship must be struck.
Empowering emerging farmers
Emerging farmers are currently a highly disorganised and misrepresented group. Significant investment is needed to establish strong institutions that can fight for the cause of emerging farmers.
With the right recipe of relevant public policies and a proactive, pro-poor private sector, it is possible to develop these farmers. Equally, however, emerging farmers cannot simply sit back and wait for the right mix of policies. At the Sernick Group, we have mentored and done business with a number of very good emerging farmers.
They arrive daily, looking for support, advice, knowledge and encouragement. Most have succeeded through their own hard work with little more than a Lank Bank loan. They have potential and an eagerness to learn – and this is why we support them.
On the other hand, politically connected farmers who know nothing of farming, obtained land through corrupt means and arrive on their land wearing Gucci shoes, are a disgrace to farming. They are the vultures of our natural and financial resources.
Invest in our farmers!
Investing in emerging farmers is the responsibility of the entire sector. While a great deal of excellent work is already being done by a large number of agriculture businesses and organisations, mega farmers and some commercial farmers, there is still much to be done.
In the face of the recent drought, we are still responsible for ourselves and our children. I appeal to government to involve commercial and mega farmers in its endeavours. There are thousands of these kinds of producers who are willing and able to make a difference.
I end with an African proverb: "If you want to go fast, go alone. If you want to go far, go with others." – Annelie Coleman
The views expressed in our weekly opinion piece do not necessarily reflect those of Farmer's Weekly.
For more information, email Nick Serfontein at [email protected].